Jul 5, 2018 12:00:00 AM
·
3 min read
How to Build an Immensely Large Banner Video Wall
Userful
The Leading Provider of AV as a Service (AVaaS)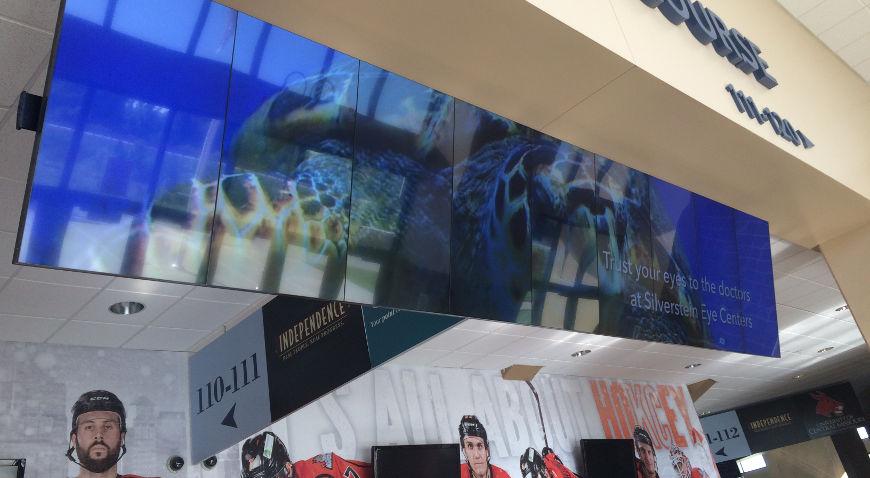 Banner video walls are a vital tool for digital signage professionals. After all, banners are a very common way to display static signage. To make a banner video wall it is a matter of stitching together a series of displays in a row (horizontally) or in a column (vertically), and being able to do this, in theory at least, ad infinitum.
Can I really build an infinitely large banner video wall?
Perhaps you may think that as long as you have the space to put up the banner video wall, you can make it as large as you want. But the truth is that there are limitations (the good news is that there are ways around those limitations...but more on that later).
As of today, the maximum content resolution of a Userful video wall canvas is 8192 x 8192 pixels, limited by the NVIDIA offloading card (this is also the maximum dimensions supported by the h.265 format). In the case of a banner video wall with the displays in landscape orientation at full HD (1080p) it would just be 4-screens wide, while it would be 7-screens wide with the displays in a portrait orientation. At first, this limitation might kill your hopes of building an ultra wide banner video wall, but with the Userful video wall solution, there is a great and easy way to get very large banner video walls (up to 204-screens wide), powered from just a single PC.
Building an ultra large banner video wall
We have a canvas of 8192 x 8192 pixels to work with, and as we saw above this allows us to have either a 4x7 or a 7x4 video wall, depending on the display orientations. In order to create a banner video wall, Userful can subdivide the canvas however you want and send the content over the network to the displays. With this, you can create your content in stripes of 1x7 (or 1x4, depending on your display's orientation) and map the content to each row through the Userful Control Center (Userful's web management tool). By arranging these rows as a grid for your content and yet having the actual displays in a single row, you've significantly extended the size of your banner video wall, while maintaining maximum resolution per display.
Test Userful Control Center Online
What if I want to go even bigger?
There are a few more tricks when it comes to banner video walls. When it comes to content scaling, video walls can be quite forgiving. Depending on the viewer's distance from the wall and the speed of the content, you can get away with some content scaling without any visually perceptible artifacts.
Following the same approach as above, you can scale up from 720p (1280 x 720 pixels) and have either a 6x11 video wall or an 11x6 video wall depending on your display orientations, which then can be converted into a 1x66 banner video wall. If we scale up from 480p (640 x 480 pixels) we can have a 12x17 (or 17x12) video wall, which then can be made into a 1x204 banner video wall.
These large banner video walls are popular at ticketing counters at airports, stadiums, or even at building lobbies, among other use cases. The great news is that you can deploy your banner video wall infrastructure with confidence, because in the future when Userful is able to support resolutions even larger than 8k, all you will need to upgrade on your ultra-large banner video walls is your host server.
---
Talk to a Userful Specialist.
If you want to consult with one of our video wall experts on how you can create a banner video wall, click on this link to open the calendar and book an instant meeting at a time convenient for you.
View Calendar
Userful
The Leading Provider of AV as a Service (AVaaS)