LED Media Commander
The Only Solution You'll Need For All Your LED Projects
Userful LED Media Commander is an enterprise solution for direct-view LED walls that integrates with your IT stack, providing you with enterprise management tools, security, and support.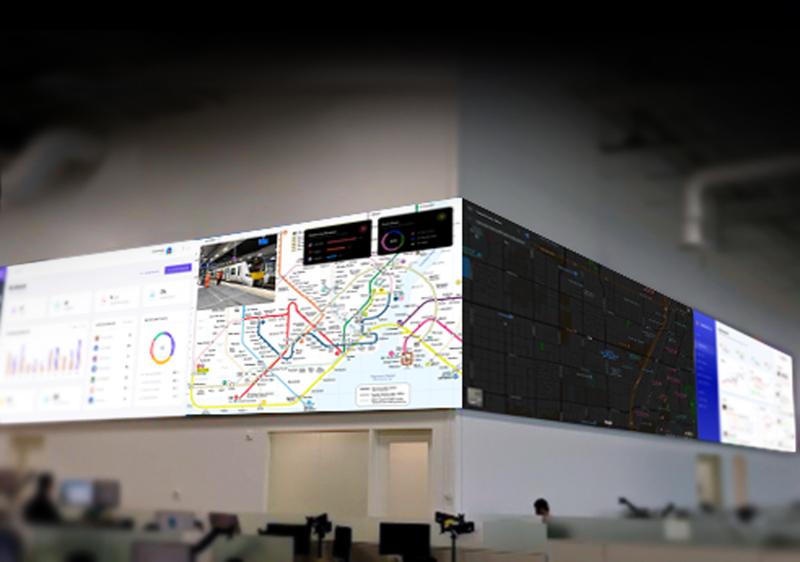 1000+

Companies have already started using Userful's platform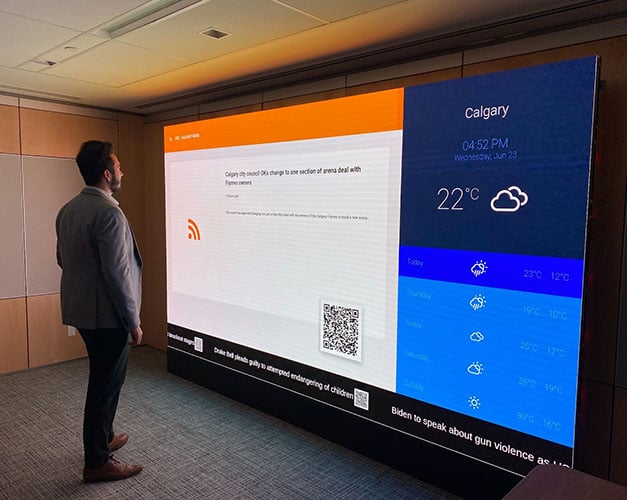 Bring Spectacular LED Walls To Your Enterprise
With Userful you can use the same platform to distribute and manage content on spectacular LED walls in lobbies, meeting rooms, common areas, outdoors, or any other use case you need.
You get the highest resolution possible from your LED panels and eliminates proprietary and specialized video processors and media servers that are usually required to deploy spectacular LED walls.
Userful Manager, you can centrally and remotely manage and interact with all your content and displays. Schedule changes, control permissions, and monitor what is being displayed on your LED walls no matter where they are in the world.
Get the maximum resolution possible from your LED panels
Manage multiple LED Walls with a one platform
Reduce Hardware and Maintenance
Remote Support and Troubleshooting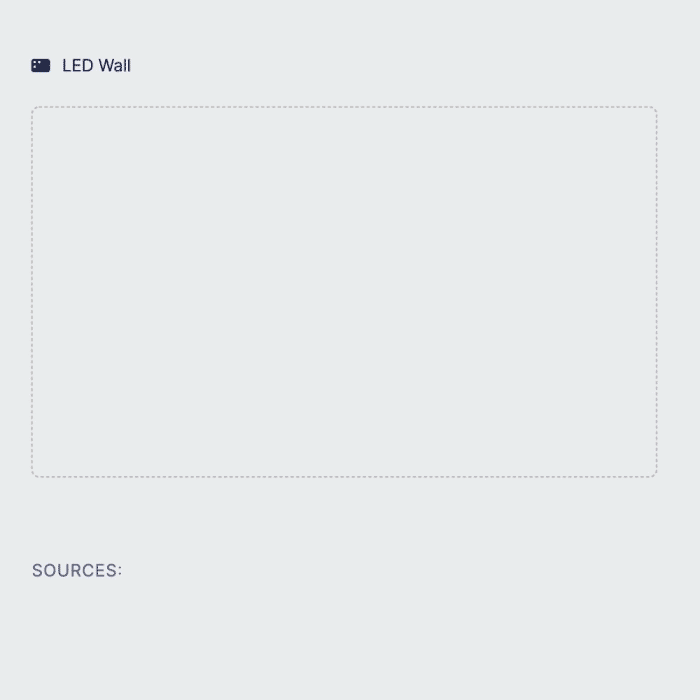 Any Source. Anywhere. Any Time
Deploy large, interactive multi-controller LED walls with a solution that is software-driven, managed through the cloud, adheres to enterprise security and management standards, and requires only commercially available off-the-shelf hardware that will be familiar to any IT professional.

You can visualize any mix of content sources on your direct-view LED Walls including Live Data, Video, Dashboards, RTSP Streams, Camera Feeds, Browsers, Desktops, and more
Works with commercially available off the shelf hardware
Unlimited Data & Video Sources
Interoperability
Reduce complexity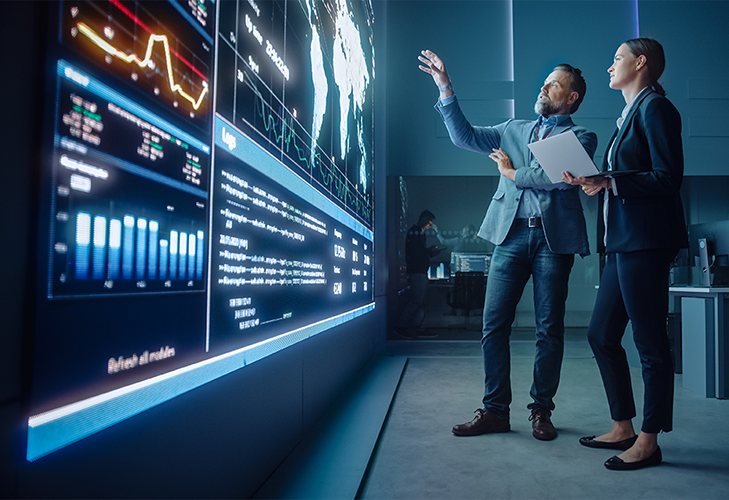 Situational Awareness For Direct-View LED Walls
Get a complete mission-critical solution for control rooms and operation centers compatible with most direct-view LED controllers to enhance situational awareness, real-time decision making, monitoring, and collaboration.

It's fully interoperable and because Userful is a complete operating system running on a server, it centralizes all your data points, video feeds, and operational tools for an unparalleled management suite for operation centers.

You get also the flexibility to bring situational awareness outside of the four walls of the control room with borderless distribution of sources to sister sites and the ability for remote access and operations.
"Borderless" Distribution of Sources For Sister Sites
Integrate Any Software Source with Userful's API.
Stream and Manage Your Data Securely.
Visualize Anything
Real-Time Collaboration And Control
Try interacting with the software now!
More Than A Video Processor
One Enterprise Platform For All Your LED Deployments
Unlimited Data & Video Sources
Display unlimited content sources (RTSP/RTP, VNC, HDMI Capture, Browsers, Applications...) without paying extra for hardware or source licenses.
Synchronization for Single or Multiple LED Controllers
Our streaming technology ensures compatibility for all applications and synchronization for multiple LED controllers.
Role Based Access Control
Enables administrators to designate and restrict specific features and permission levels based on customizable teams. Supports SAML and LDAP.
Enterprise Security
Userful's architecture makes it a security leader. It's locked down, but also allows enterprise teams to use their own security software and protocols.
Supervisor dashboard
Allows managers to simultaneously view near-real-time video streams of the live content on all their control room video walls and LED walls from a single browser web page.
Automated Failover
On-Premise servers offer options to add backup servers to ensure continuous system availability. Settings are automatically shared between the primary server and backup server.
Picture-In-Picture
Enables users to display sources in inset windows while the main source content continues to play in the background.
API
Userful REST API allows customers to programmatically interact with the video walls and displays using third-party applications.
Remote Access
Userful's complete remote access enables teams to keep working smoothly and securely from any location.
Cloud Management
Userful Manager allows customers to centrally and remotely manage and interact with all Userful servers and displays.
Monitoring Tools
System diagnostic alerts and analytics visualizations to help identify potential network or server resource constraints before they affect performance.
Userful Media Commander
How Userful Media Commander Works
Multiple LED Controllers
Userful Media Commander uses an off-the-shelf commercially available server, running Userful software. Customers can control and interact with their deployment locally or through the cloud using Userful Manager, with the server directly connected to the LED wall controllers. This approach supports the highest resolution and the most LED panels, eliminating the proprietary video processors and media servers that were once required to deploy spectacular LED walls.
Provides "genlock" synchronization for flawless image quality across panels connected to multiple LED controllers
For any LED wall that requires synchronization of multiple controllers.
Achieves perfect synchronization by connecting each LED controller directly to a Userful Media Commander server.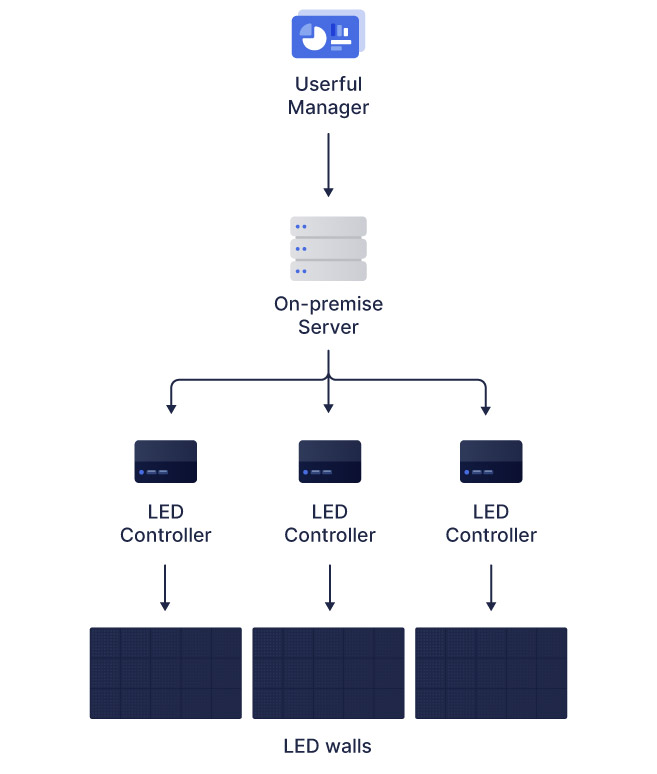 Single LED Controller Option With Userful uClient Adapter
Connect the LED controller to the Userful adapter which in turn connects over the network to a Userful server.

That server can be on-premise or in the cloud. (Deployments that are predominantly video or digital signage can use a cloud server while deployments with more complicated multi-source image processing need an on-premise server).
For 1080p or 4k walls with a single LED controller customers also have the option of deploying using a Userful Certified uClient Adapter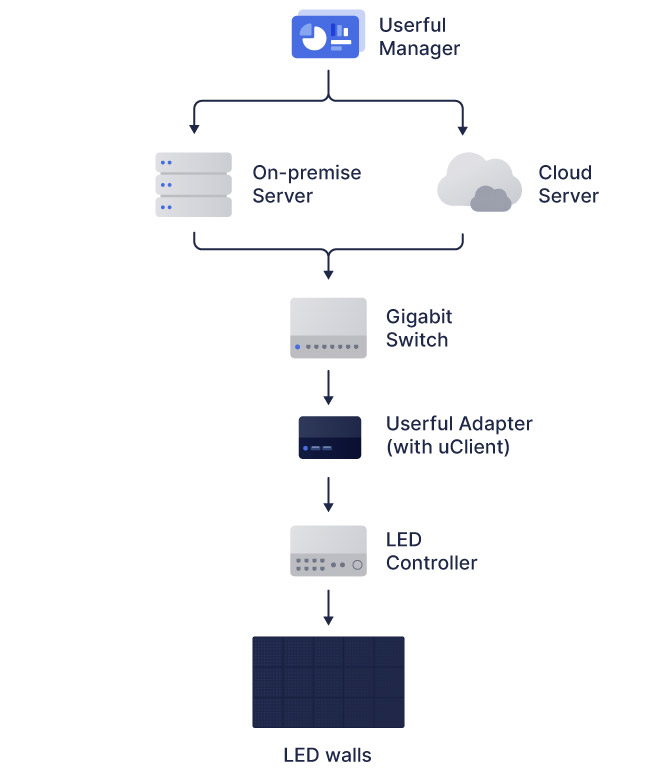 Userful LED Media Commander Data Sheet
Download datasheet for summary full feature list.
Download Data Sheet
Book a Meeting
Schedule a Demo with a Userful Specialist Today!
Schedule a customized demo with a Userful specialist who will create a display setup based around your project requirements.
Book Meeting
It takes 10 seconds to schedule. We can't wait to meet you!