LG and Userful Unveil
Integrated Solutions Bundle
LG and Userful to demonstrate integrated technology solution at the Global Security Exchange (GSX) September 11-13 in Dallas, TX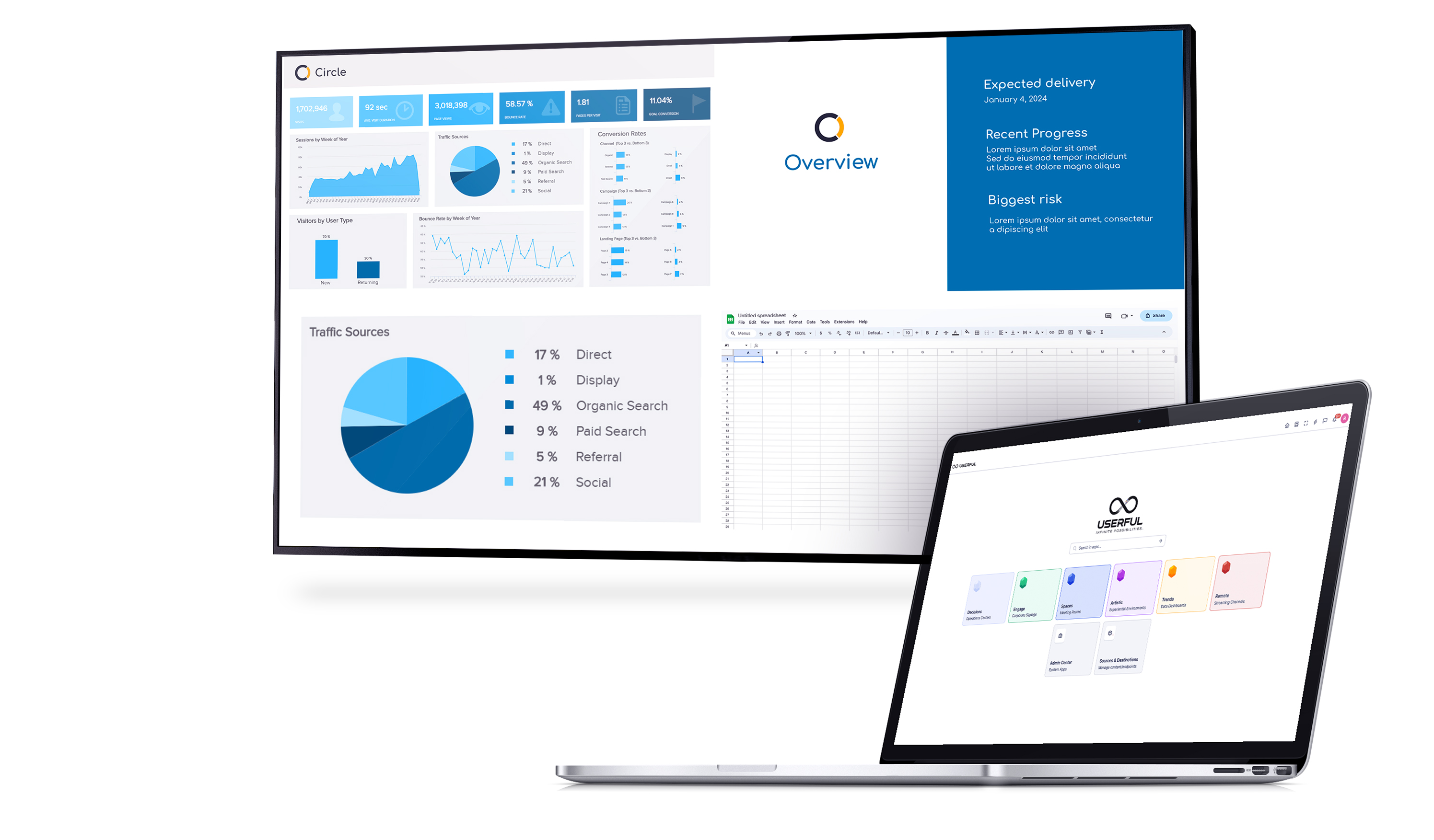 The Userful Infinity Platform™ enables enterprise customers to deploy a wide range of solutions from a single pane of glass, integrated with applications like VMS and BMS systems, with support for applications ranging from control rooms to datametrics and operational metrics to digital signage to immersive experiences to remote worker streaming. Whichever initial solution customers need, LG offers a display technology that is most suitable for that need. Should a customer want to expand to other applications, they can do so immediately as the solution is a single license that includes all services offered through the Infinity Platform. Suitable LG displays can be added by extension on the IT network.

The integrated solutions will be made available initially through AV integrators and resellers in North America. This offering will enable AV channel partners to purchase pre-tested solutions that allow easier installation into networked environments, while enabling them to focus more on integration into customers' workflows rather than IT/network integration. As customer needs expand, or if the needs are greater than the initial bundle can support, both LG and Userful will be available to support the channel partners for such larger opportunities.

"LG has taken a leadership position in the industry by integrating software and platform-as-a-service with display technology," said John Marshall, CEO, Userful. "Developing solutions that ease the burden of integrating and managing AV services on enterprise networks will accelerate adoption of AV in IT. As Userful's Preferred Solutions Partner for display technologies, LG has shown its industry leadership and commitment to integrating software and platform technologies with visualization."

"As the AV industry has matured, we have increasingly seen comfort rise with advanced AV services being deployed across networks with proper security measures and centralized manageability. Userful's Infinity Platform will bring all three together, enabling IT leaders a single platform for AV service deployment." said Peter Kim, Solution Ecosystem Lead, LG Business Solutions USA. "The combination of the Userful Infinity Platform and LG webOS is a powerful pairing. Our collaboration with Userful underscores our commitment to providing the best possible collaboration solutions for the commercial market."

To learn more about LG's collaboration with Userful and the integrated bundle solution please visit here. And to see the bundle firsthand at GSX, please visit here.

For high-res images, click here.
###
About LG Business Solutions USA
The LG Electronics USA Business Solutions division serves commercial display customers in the U.S. lodging and hospitality, digital signage, systems integration, healthcare, education, government and industrial markets. Based in Lincolnshire, Ill., with its dedicated engineering and customer support team, LG Business Solutions USA delivers business-to-business technology solutions tailored to the particular needs of business environments. Ten-time ENERGY STAR® Partner of the Year LG Electronics USA Inc., based in Englewood Cliffs, N.J., is the North American subsidiary of LG Electronics Inc., a $68 billion global force in consumer electronics, home appliances and air solutions. For more information, please visit www.LGSolutions.com.
About Userful
Userful™ is a leading provider of software-defined AV over IP for advanced operations of mission-critical environments and core workflows, serving IT organizations worldwide. Userful's unified software platform provides modernized services and management through a complete suite of enterprise AV applications for comprehensive organizational and situational awareness. Userful harnesses the same unified platform to provide global manageability through a single pane of glass.
Built on IT standards and protocols, the Userful Infinity Platform™ is scalable, secure, centrally managed, and future-proof. Its software-defined architecture reduces total cost of ownership (TCO) and eliminates the supply-chain constrained proprietary hardware and the operational silos created by traditional AV deployments.
Userful partners with leading global companies powering a technology ecosystem that ensures seamless integrations and end-to-end interoperability. A multinational company with headquarters in Silicon Valley and Calgary, AB, Userful supports customers in more than 100 countries around the world.
Media Contacts:
Userful Corporation
Danielle Alfaro
+1 403 923 6723
LG Electronics USA
Kim Regillio
+1 815 355 0509