Userful Unveils New Features in its Infinity Platform
New features deliver infrastructure efficiencies, advanced manageability for IT, and expanded interoperability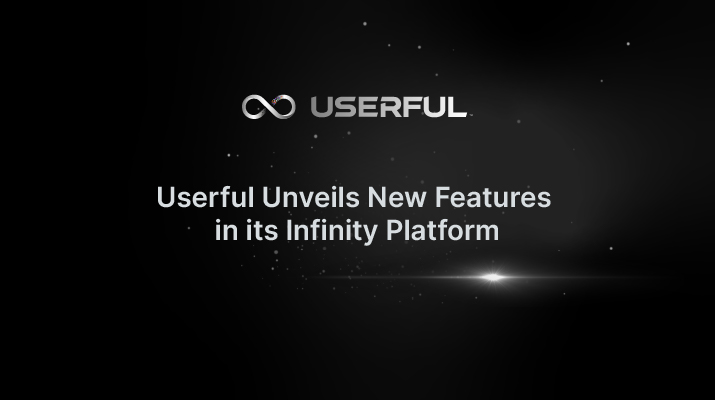 San Ramon, CA - June 8, 2023 - Userful™, a provider of solutions for core enterprise operations, has announced the latest release of the Userful Infinity Platform™, equipped with advanced features and enhancements that will provide increased security, scalability and interoperability transforming the way enterprise IT use and manage their AV systems.
New features now available on the Userful Infinity Platform include:
Comprehensive Suite of Operations Center Collaboration Solutions (at one price)
Decisions: multi-source command and control walls for LED and LCD video walls
uConduct: advanced operator workstations
Spaces: new war room collaboration tools, with UC/UM integrations
uControl: new capability to create simplified, remote control functionality through mapped presets to push content across displays with a single button click
Broadcast & Engage: emergency mass notification alerts with the ability to create and send custom messages to any Userful managed display
Infrastructure Efficiencies
Forward and store: distribute digital signage at scale by eliminating content streaming from servers for single display signage applications.
Server player and uClient player: playback digital signage content with server players for perfect sync playback on video walls, or use the uClient player for scalable playback on single screens by using the local device playback capabilities.
H.265 support: improves bandwidth efficiency for streaming to any destination over corporate networks.
Expanded firmware management and version support: IT managers can now leverage Android enterprise firmware update capabilities to ensure their managed uClient adapter devices have the latest certified OS build.
Expanded Flexibility and Interoperability
Userful's Platform API: enables programmatic switching of operation room layouts and custom text across any connected display from external systems - improving workflow efficiency and decision-making capabilities.
PowerBI enhancements: expanded integration for use in any operations center environment and mass distributed for operational signage, ensuring data-driven insights empower organizations with actionable intelligence.
YouTube integration: users can curate secure remote channels populated with YouTube-hosted videos using the embed option.
Advanced Manageability & Security for IT
New live monitoring dashboard: provides real-time insights and proactive alerts for the monitoring and managing of network, CPU, and GPU utilization.
IT-first management interface: creates additional flexibility for managing users and their access by enabling targeted permissions and restrictions. The new interface also provides detailed user access logging for auditing.
"We are proud to unveil the latest innovations of the Userful Infinity Platform," said John Marshall, CEO of Userful Corporation. "Our team of experts have worked tirelessly to create a solution that simplifies environments, reduces costs, and enhances user experiences. I'm confident our end customers will benefit greatly from these new features and the added value our solution brings to enterprise IT."
Userful will be showcasing the latest innovations of the Infinity Platform during InfoComm 2023 in Orlando, Florida, June 14-16. To book a meeting go to bit.ly/3qpZ5ih. To learn more about the Userful Infinity Platform, please visit https://www.userful.com/infinity
About Userful
Userful™ is a leading provider of AV as a Service (AVaaS) for advanced operations of mission-critical environments and core workflows, serving IT organizations worldwide. Userful's unified software platform provides services and management through a complete suite of enterprise AV applications for comprehensive organizational and situational awareness, and readiness for modernized operations. Userful harnesses the same unified platform to provide global manageability through a single-pane-of-glass.
Built on IT standards and protocols, the Userful Infinity Platform™ is scalable, secure, centrally managed, and future-proof. Its software-defined architecture reduces the total cost of ownership (TCO) and eliminates the supply-chain constrained proprietary hardware and the operational silos created by traditional AV deployments.
Userful partners with leading global companies powering a technology ecosystem that ensures seamless integrations and end-to-end interoperability. A multinational company with headquarters in Silicon Valley and Calgary, AB, Userful supports customers in more than 100 countries around the world.