Userful Unveils The World's First "Quad-Play" Solution For Modernized Operations Centers
Userful to demonstrate its comprehensive solution for video walls, advanced operator workstations, war rooms, and emergency mass notifications at GSX 2023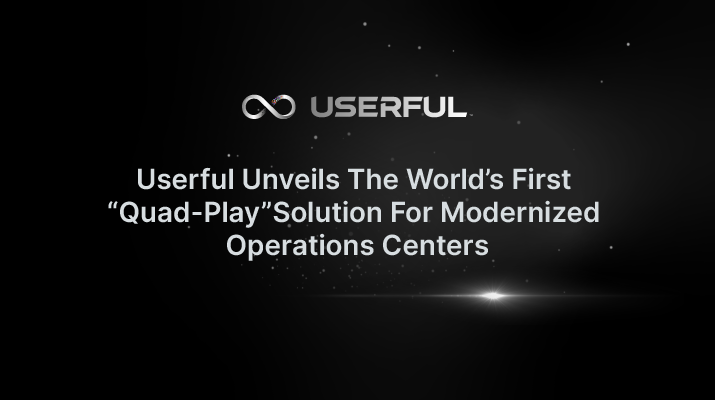 San Ramon, CA - August 28, 2023 - Userful Corporation™, a provider of solutions for core enterprise operations, has introduced the launch of its next-generation operations centers solution encompassing a full suite of command and control applications that bolster visualization and collaboration for critical decision making.
Leveraging the Userful Infinity Platform's capabilities, Userful's operations centers offering provides a platform that maximizes operational intelligence through the integration of operational content (eg: VMS, BMS, Access Control) for visualization, management, and control of critical information. It provides enterprise IT with an all-in-one approach to efficiently manage their mission-critical AV systems requiring no proprietary hardware all for a single price.
With an emphasis on industry-leading advantages including Total Cost of Ownership (TCO) optimization, intuitive usability, seamless control room and end-point integrations, centralized management, scalability, and state-of-the-art security, Userful's operations centers solution sets a new standard for situational intelligence and operational excellence.
Operations Centers Management
Provides operators with dynamic layouts designed for seamless collaboration and enables any source configuration to facilitate the creation of high-end graphics on large canvases. Advanced workflows offer increased flexibility in sharing layouts and role-based access controls, ensuring both versatility and appropriate security controls.
Advanced Operator Workstations
uConduct: uses IT protocols within its software-defined AV over IP platform to power advanced operator workstations, real-time control of multiple sources, and customized interactive layouts. It leverages an intuitive interface for operators to present, manage, and distribute content, information, and data within security operations centers, control rooms and war rooms.
uControl: faster than navigating a mouse or typing on a keyboard, Userful's simplified remote control touch interface provides operators rapid switching between sources: easy, single touch, switching of content on multiple destinations at one time. Operators can use uControl on a tablet or any browser enabled device for easy switching and assignments of content without the need to do these actions from a workstation.
War Rooms
For operators and management that need to assemble in a secure, air-gapped meeting space, this solution enables collaboration and creates a dedicated space or virtual environment where security professionals can gather to manage and coordinate the response to major security incidents or breaches.
Emergency Mass Notification Alerts
Streamlines communication, improves situational awareness, and facilitates efficient decision-making among security analysts by creating a centralized hub for sharing information, collaborating, and responding to security incidents effectively.
Monitoring Support and Threat Detection
Leverage data dashboards for threat detection, analyze network activity, logs, and security events. Visualize advanced analytics and identify security risks, allowing for rapid response to prevent breaches and enhance organizational security.
"We're accelerating digital transformation and revolutionizing mission-critical operations by leveraging IT standards for a next-generation, comprehensive operations centers solution, " said Shane Vega,VP of Marketing, Userful. "Our software-defined AV over IP platform and operations centers solution is designed to provide IT leaders with enhanced control, streamlined workflows, and effortless collaboration."
Userful will be showcasing its operations centers solution at GSX 2023 in Dallas,TX, September 11 - 13, 2023.
To learn more, go to www.userful.com/solutions/control-rooms
About Userful
Userful™ is a leading provider of software-defined AV over IP for advanced operations of mission-critical environments and core workflows, serving IT organizations worldwide. Userful's unified software platform provides services and management through a complete suite of enterprise AV applications for comprehensive organizational and situational awareness, and readiness for modernized operations. Userful harnesses the same unified platform to provide global manageability through a single-pane-of-glass.
Built on IT standards and protocols, the Userful Infinity Platform™ is scalable, secure, centrally managed, and future-proof. Its software-defined architecture reduces the total cost of ownership (TCO) and eliminates the supply-chain constrained proprietary hardware and the operational silos created by traditional AV deployments.
Userful partners with leading global companies powering a technology ecosystem that ensures seamless integrations and end-to-end interoperability. A multinational company with headquarters in Silicon Valley and Calgary, AB, Userful supports customers in more than 100 countries around the world.