LG Customer
LG webOS displays support Userful's complete Visual Networking Platform
Userful integrates directly into LG smart displays for a single seamless AV-over-IP solution: Flexible, scalable, easy-to-manage, and secure.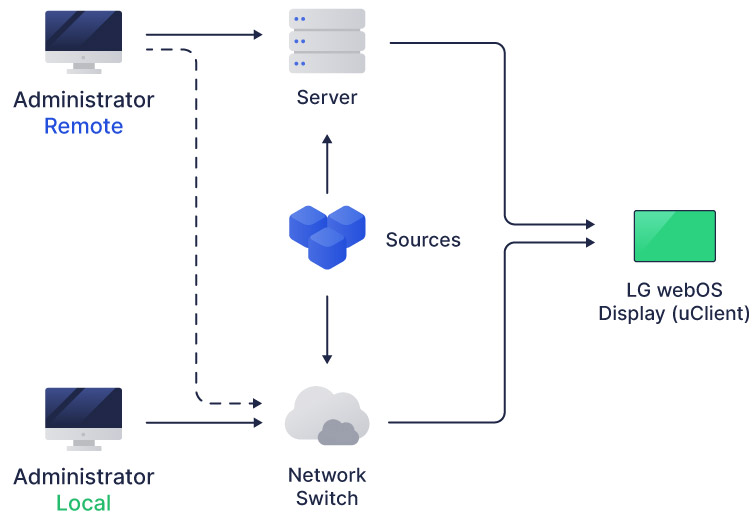 How it Works
The Userful uClient app downloads directly onto a LG webOS 4.0 or newer display (see list of supported displays). That display connects directly to a Userful server either on-premise or in the cloud significantly reducing or even eliminating the hardware required for advanced display applications.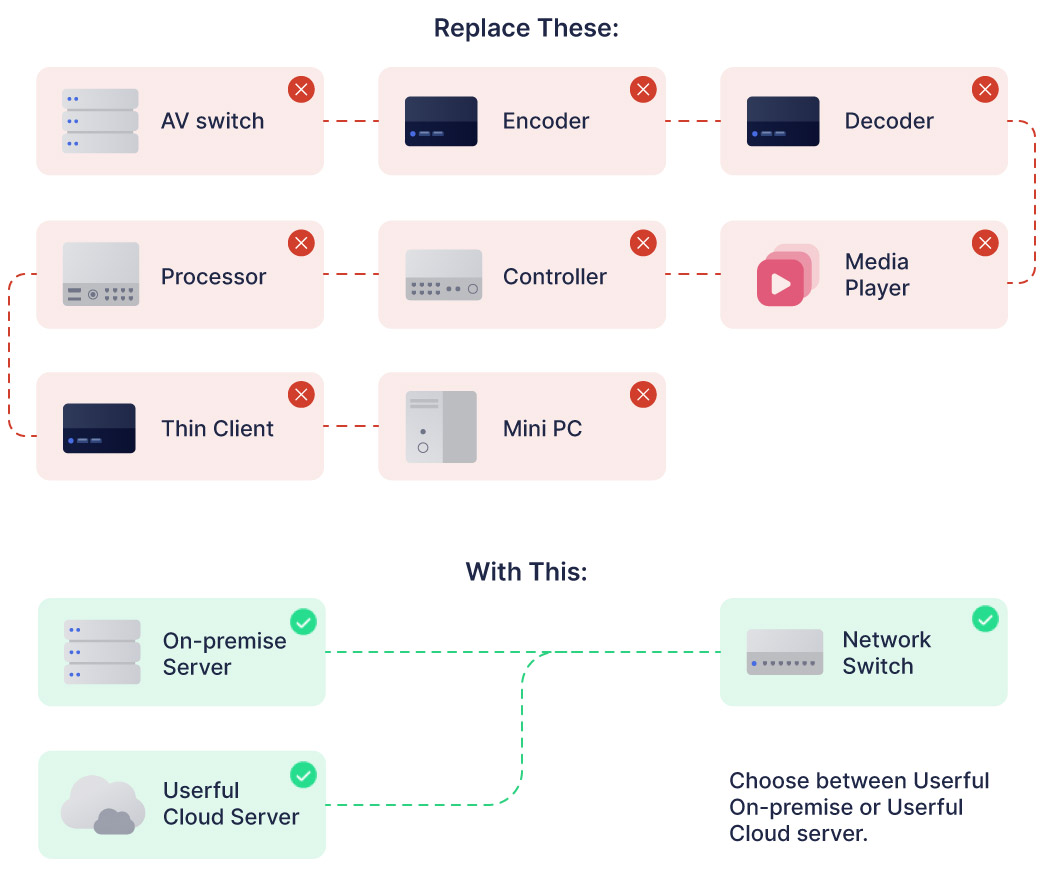 LG webOS and Userful
Userful leverages the System on a Chip (SoC) capabilities of LG webOS Smart Displays to eliminate unnecessary hardware and to simplify the deployment of impactful digital signage, immersive video experiences, and mission-critical control rooms.
Key Benefits
The Userful platform is based on IT Standards not proprietary hardware, offering freedom and flexibility
Stream in Real Time
Stream any content source onto any webOS screen globally in real-time.
Any Configuration
Display multiple sources in any configuration including picture-in-picture and multi-window.
Scheduling
Manage content and schedule changes, or interact with sources with Userful's Software KVM.
Browser Based
It is all done with a browser, no apps are required.
By Choosing Userful with LG webOS customers get:
No Additional Hardware required

Userful and LG webOS offer AV solutions that require no additional hardware. This combination delivers Higher Reliability with a Lower Total Cost of Operation.
Video Walls of Unlimited Size and Resolution

Userful leverages the power inside every LG webOS display allowing customers to add an unlimited number of displays and to deploy video content of any resolution.
A Choice between a Cloud or an On-Premise server

Userful and webOS combined provide the option to be 100% cloud operated, 100% operated from an on-premise server, or a hybrid deployment that mixes both.
Wifi support

Wifi equipped webOS displays can now be used for signage or video walls in more remote locations where WiFi is the only connection option. Provides maximum flexibility for deployments.
Continuous Playbackserver

Display walls will continue to play any local content regardless if the network is available or not. This provides high reliability.

Application
Control Rooms & Op Centers
Mission Critical Performance without the complexity of traditional video wall solutions.

Application
Data and Dashboard Walls
Stream dashboards, KPIs, and other information sources for real-time visual engagement.

Application
Digital Signage
Any content, anywhere, any time, any screen: dashboards, menus, CMS content, and more.

Application
Video Walls
Eye-catching stunning video walls of any size and shape and with the content of unlimited resolution.

Application
Corporate Communication
Centrally manage internal communication and empower team members.

Application
Factory and Process Automation
Deploy networked screens to improve operational efficiency.
Special Offer
Download Get Started Guide & Special Offer
For a Limited time Userful and LG have teamed up to offer LG customers free Userful Standard Subscriptions with the purchase of a new LG Display. Download our Get Started Guide for more details and to find out if your LG Displays qualify.
Special Offer--Free 1 year Userful Standard Subscription with new LG Signage displays.
Software download link for free trial
Userful pricing guide and product comparison
Quick Start Guide
List of Supported Displays