Userful uClient Application on LG webOS Displays
Userful's uClient app leverages the SoC capabilities of LG webOS Displays to remove the constraints of proprietary hardware—providing advanced display applications from mission critical Operation Centers to Corporate Signage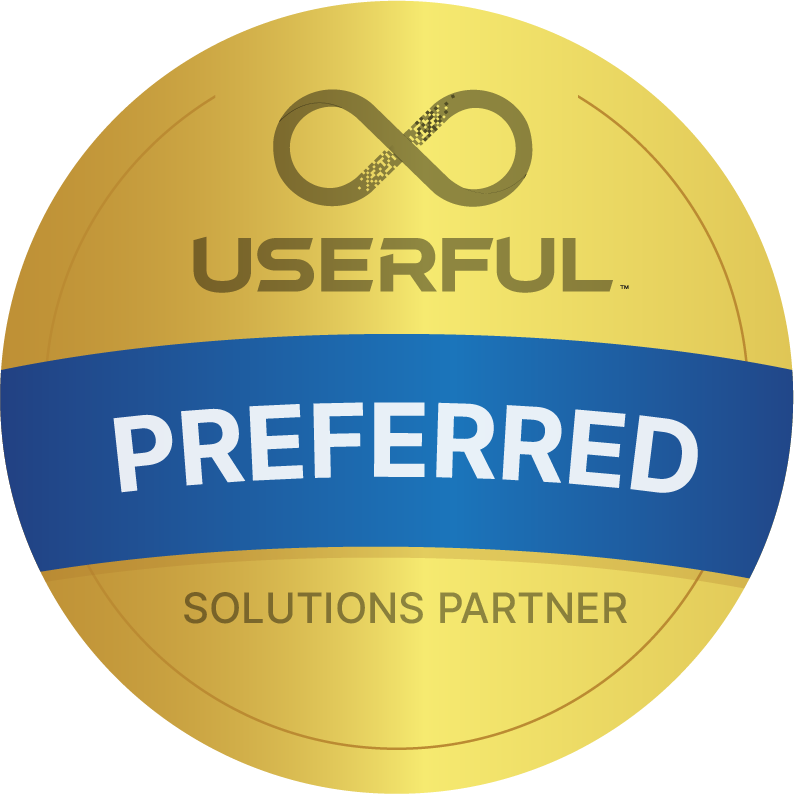 Software AV-over-IP
Transforming Mission-Critical Decision Making Through an Integrated AV-over-IP Solution
The Userful Visual Networking Platform has integrated its uClient Application onto LG webOS displays, providing hyper-scalability, flexibility, and manageability.
Real-Time Streaming
Stream any content source onto any LG webOS screen globally in real-time using RSTP.
End-to-end Management
Centralized control for IT while providing functional departments the ability to manage sources & applications as they need.
Simple & Easy to Deploy
Removes substantial amounts of hardware, installation costs, and points of failure.
Industry Leading TCO
Reduce Total Cost of Ownership by removing the need for proprietary hardware.
Source Flexibility
Integrate multiple content sources (Web Browsers, VNC , RTSP/RTP, AI, and IoT, etc.) at no extra cost.
Security Leader
Userful uses a secured server, with locked down OS and no use of apps to ensure peace of mind.
Resources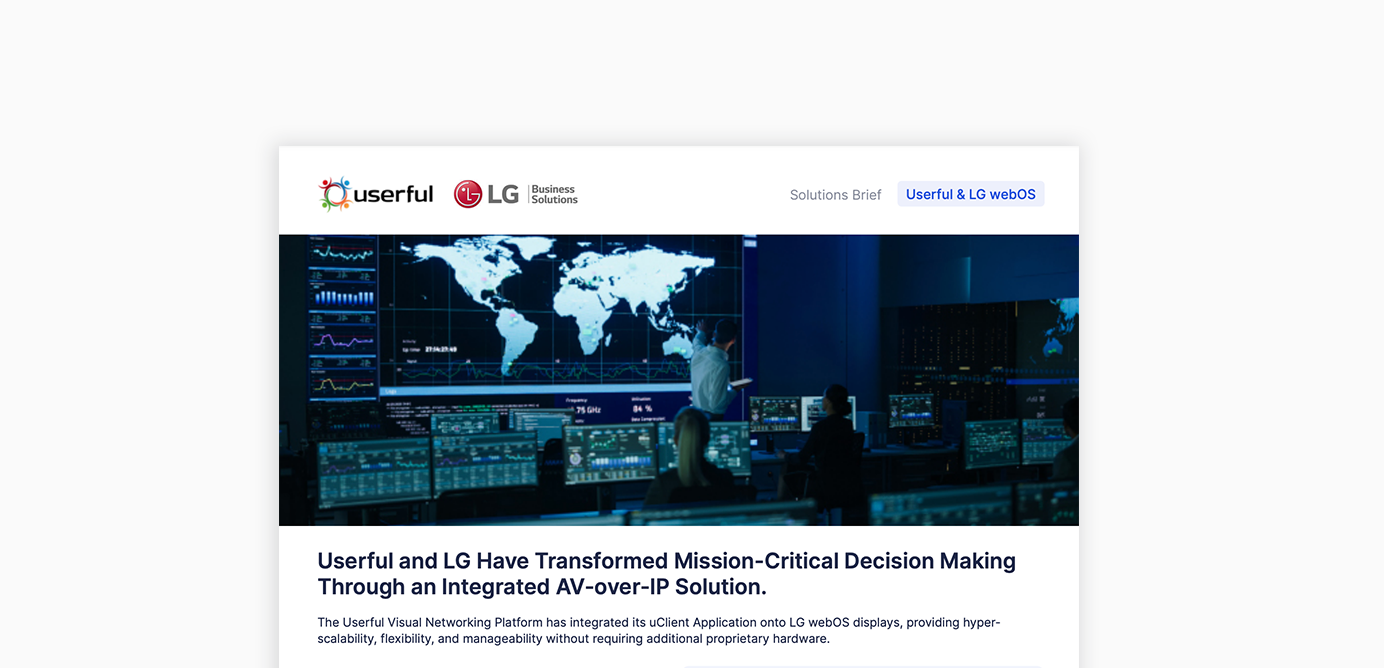 uClient App & LG webOS
Get a complete overview of how the Userful platform and uClient application integrate directly with LG webOS displays.


Download Solution Brief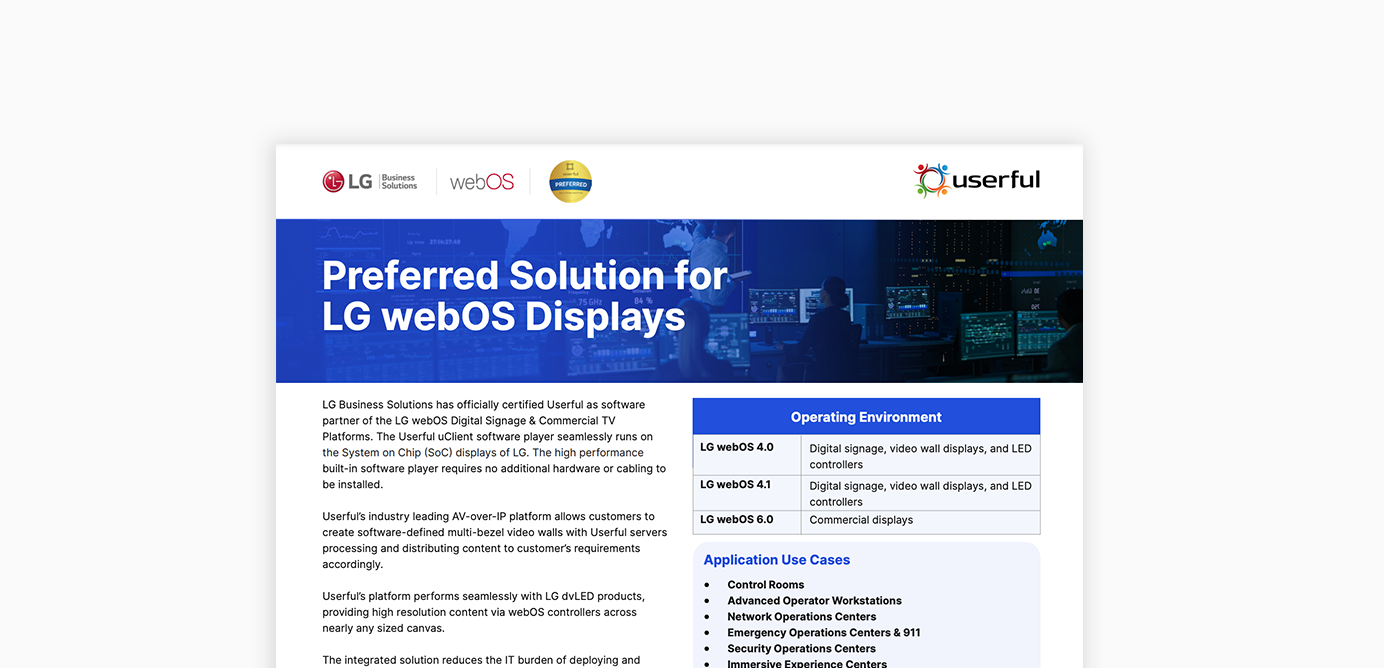 Preferred Solution for LG webOS Displays
LG Business Solutions has officially certified Userful as software partner of the LG webOS Digital Signage & Commercial TV Platforms...
Download Technical Guide
Userful featured in LG's Control Room Booth at InfoComm 2022
Userful & LG Use Cases
A Solution for Every Operations Center
Beyond Operations Centers
A Featureful Solution for a Wide Variety
of Use-cases
Contact Us
Speak with a Userful Expert
Userful and LG have teamed up to offer a simplified solution for Operation Centers. Contact us today and a Userful Representative will contact you shortly.

For partner enquiries please email partner@userful.com
Identify the features and LG displays best suited for your use case.
Get familiar with our platform and uClient application.
Validate your project's technical requirements.
By Choosing Userful with LG webOS customers get:
No Additional Hardware required

Userful and LG webOS offer AV solutions that require no additional hardware. This combination delivers Higher Reliability with a Lower Total Cost of Operation.
Video Walls of Unlimited Size and Resolution

Userful leverages the power inside every LG webOS display allowing customers to add an unlimited number of displays and to deploy video content of any resolution.
A Choice between a Cloud or an On-Premise server

Userful and webOS combined provide the option to be 100% cloud operated, 100% operated from an on-premise server, or a hybrid deployment that mixes both.
Wifi support

Wifi equipped webOS displays can now be used for signage or video walls in more remote locations where WiFi is the only connection option. Provides maximum flexibility for deployments.
Continuous Playbackserver

Display walls will continue to play any local content regardless if the network is available or not. This provides high reliability.