Userful Launches New DV-LED Solutions and New AV-over-IP Applications For The Enterprise
New applications deliver solutions for control rooms, meeting rooms, digital signage including enhanced integration with LG's webOS to be demonstrated at InfoComm 2022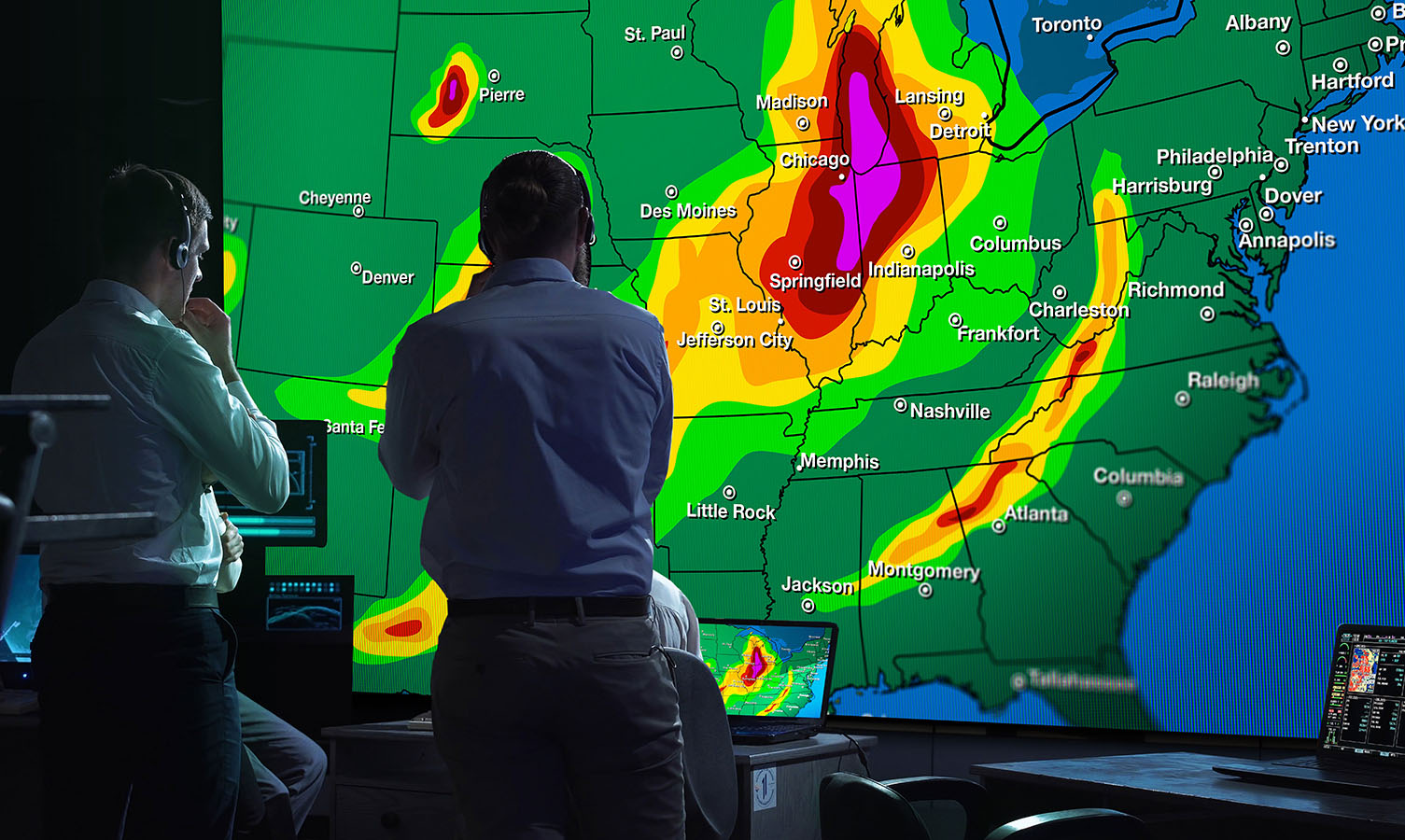 Calgary, AB/San Ramon, CA - June 6, 2022 - Userful Corporation, the leading
Platform-as-a-Service provider in the Enterprise AV-over-IP market—the fastest-growing segment of the IT industry (from $3B to $51B by 2027), announced its new DV-LED solutions as well as a series of new applications that run on its AV-over-IP platform: Diamond Decisions for control rooms and operation centers, Sapphire Spaces for meeting rooms, and Emerald Plus which includes new features for digital signage.
New DV-LED Solutions
To support the growing demand for DV-LED that gives organizations the end-to-end control they've come to expect from an AV-over-IP platform, Userful has enhanced its LED offerings. Overall, Userful's new DV-LED solutions portfolio enables centralized control and management of any screen – DV-LED, single displays, kiosks, etc from any display/controller vendor (eg. LG, Unilumin, Novastar, Samsung, Sony) – from a single management platform. This is enabled through Userful's DV-LED optimized software platform and software products:
LED Media Commander 11.4: Userful has added new capabilities to its LED Media Commander. The new software release supports up to eight LED controllers with genlock synch which ensures flawless synchronization across even the largest DV-LED walls for command-and-control, signage applications or immersive experiences.
uClient for webOS DV-LED: The Userful uClient integrates directly into LG webOS allowing customers to deploy LG's DV-LED products LSAA Magnit and LSAB Bloc, on Userful's AV-over-IP platform with no additional hardware required.
uClient for Android and Tizen DV-LED: For DV-LED deployments that are not using LG webOS, Userful also offers uClient adapters which ensures display ubiquity: any display or LED controller can be used in a Userful deployment.


New Enterprise Applications:
Userful Diamond Decisions
Userful's Diamond Decisions provides an intuitive interface for operators to present, manage, and distribute content, information and data. Userful provides operation centers with advanced operator workstation, remote site and employee solutions more efficiently than traditional AV vendors. Barco, for instance, requires a significant amount of proprietary hardware to support their TransForm N, OpSpace, and Secure Stream solutions. In contrast, Userful's software requires no proprietary hardware to support operations center video walls, allowing the display of any source, anywhere in real time. Additionally, Userful's Diamond Decisions solution now supports soft KVM functionality for operator workstations and allows multiple operations centers to connect and securely share data while also allowing managers to monitor content and workflows remotely. Diamond Decisions enables real time situational awareness and critical decision making--while empowering proactive communication and response times.
Userful Sapphire Spaces
Sapphire Spaces enables users to leverage large format screens, video walls and DV LED walls in meeting room spaces to create a collaborative canvas for more impactful meetings and collaboration. Sapphire Spaces also serves as a perfect compliment to Diamond Decisions for SOC/NOC war room collaboration as an add on. An advanced alternative to Barco's Click Share and Mersive's Solstice, it allows users to connect wirelessly from their laptops without the need for internet connectivity to meet enterprise-level security requirements and ensure seamless collaboration in even the most security sensitive spaces.
Userful Emerald Plus:
Created to provide an enhanced offering of Userful's Emerald Signage that was launched in 2021, Emerald Plus expands Userful's existing digital signage capabilities to provide new enterprise-level functionality for more use cases. Emerald Plus is a powerful alternative to AppSpace and Stratacache that blends into a single unified enterprise platform for AV. New features include proof of play, dynamic data updates, powerBI and Tableau integration to showcase business intelligence dashboards intermixed with corporate signage.
All three of these applications were created to address the needs of the digitally transformed enterprise and all run on Userful's AV-over-IP platform which offers unparalleled power and flexibility from a public cloud server or a private cloud on-premise server and allow teams to share any content source onto any display including video walls, DV-LED walls and commercial displays.
"Userful continues to forge ahead with our elite enterprise solutions for IT departments to integrate complex AV applications over traditional IP networks," says Userful's CEO, John Marshall. "Our AV-over-IP platform continues to advance enterprise visual communications including DV-LED."
Userful and LG have partnered to showcase the integration of Userful's LED solutions and Userful Diamond Decisions with LG's new DV-LED Magnit display solutions. To schedule a meeting with a Userful representative at InfoComm 2022 in LG's Booth #N2029 visit https://m.userful.com/infocomm2022. To learn more about Userful go to www.userful.com
About Userful
Userful is the world's leading platform-as-a-service provider in the Enterprise AV-over-IP market—the fastest-growing segment of the IT industry, forecasted to grow from today's $3B to $51B by 2027, a 60 per cent 5-year CAGR. Userful's Visual Networking Platform is disrupting the market with a Platform-as-a-Service (PaaS) model that allows customers to choose from a suite of highly-integrated AV applications (SaaS offerings, secure, SSO, integrated UI) to support modern service needs across the enterprise. From corporate signage to control room solutions to streaming platforms and data metrics, Userful's solutions enable modernized business operations for IT leaders and the functional departments they support. Userful helps organizations advance the way they work, learn and govern with secure, scalable and centrally managed solutions for employee and customer engagement worldwide.