Red Bull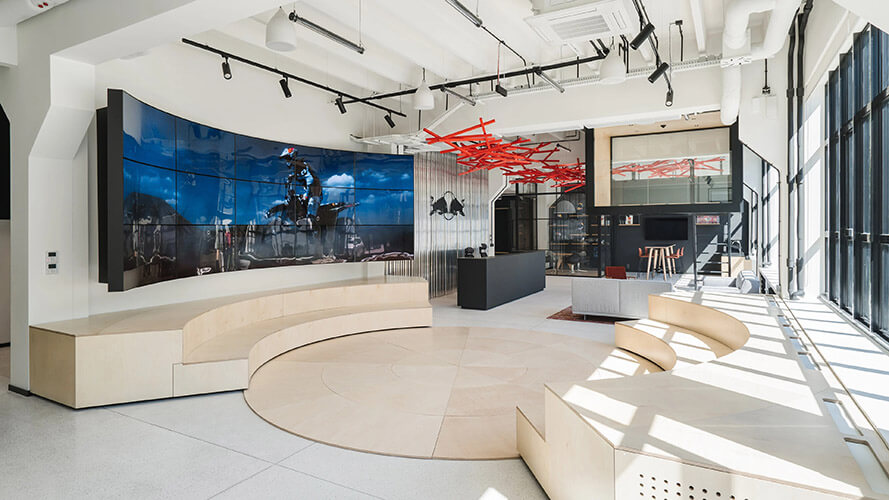 About The Project
As one of the most recognizable brands in the world, focused on the exceptional and extraordinary, Red Bull is known around the globe for not only its tasty energy drinks but also its extreme sports and events with amazing visual and video content. With Red Bull Poland's new headquarters located in Fort Mokotów, the team was on a mission to create a technologically modern and unique office with an amazing visual presence found in its lobby using a video wall that would showcase internal content such as events, advertisements, and spots.
The Challenge
The goal was to create a video wall located in the central reception area. The space needed to be well designed and arranged for streaming internal content as well as online meetings with esports players, events, and physical activities.
Red Bull envisioned a stunning, curved, and lightweight video wall with ultra high definition found in the visuals being streamed to the screens. The video wall and solution required that real-time content could be shared at a moment's notice as employees are quickly changing between tasks with different events and meetings requiring the video wall to be flexible, dynamic, and easy to manage. The team at Red Bull also needed a solution that would allow them to configure the video wall layout into any size and shape, while supporting a variety of content types from web, native videos, video conferences, live events, esports meetings, and much more.
The Solution
In order to better manage the flow of visual display information and improve executive decision-making, AHS implemented Userful's Visual Networking Platform under the ISED program. Userful is a single, centrally managed platform to distribute any visual content to any screen or device globally in real-time. AHS deployed Userful's platform in their operations centers, meeting rooms, and public signage using LG webOS displays which have pre-installed Userful software. This allowed AHS to share information onto any Userful-enabled screen with one easy-to-use system.
By choosing Userful's platform and application, Red Bull is able to:
• Centralize control and management
• Provide end-to-end management of displays
• Support multiple configurations and use cases whether it be conducting online meetings with esports players and at the same time organizing various types of physical activities
• Use standard off-the-shelf hardware
• Share any source of content to any screen such as live meetings, video conferences, sports, and more
• Easily change content on the video wall in real-time
Userful's platform, application, and uClient adapter connected to each LG OLED display allow Red Bull to maintain full control of their video wall in real-time for a variety of use cases. Together, Userful and LG provide a lightweight infrastructure for the lobby video wall with Userful's software-defined approach significantly reducing the solutions footprint and hardware needs with the LG screens providing a sleek display infrastructure.
The Result
Red Bull was determined to pioneer a project like never before in Europe. Userful's Visual Networking Platform and the entire infrastructure, from audio, video, and curved LG screens that create the video wall, provide a cinematic feel at Red Bull Poland's headquarters.
By leveraging Userful's Visual Networking Platform, AV-over-IP technology, and LG screens, Red Bull has been able to create an extraordinary lobby video wall to fuel their office with amazing visual and video content. By implementing Userful's solution, the team has been able to centralize control and management of the video wall and open opportunities to expand into other areas and aspects of their headquarters beyond the lobby.
Over time, the video wall has evolved as Userful's software-defined solution and LG screens allow Red Bull to stay up-to-date with the latest technology. Red Bull now leverages Userful's platform and LG screens for presentations, streaming, and department meetings, among many other use cases.
Download Case study PDF
Download The PDF version here
Download
Recent Case Studies
Explore More of our Customer Success Stories