A Powerful Video Wall Controller, Cost-effective & Easy to Use
Turn a PC or Server into a browser managed video wall controller and easily control any source on any display in real time
Video Wall Controller: PC/Server and the Network for an easy-to-use, affordable solution
Many organizations seeking high performance video walls turn to proprietary servers or controllers. All too often the results are disappointing: a high price tag for a complicated solution that is difficult to manage and isn't able to grow with the customer's needs.
Userful is a software driven solution with an easy to use drag and drop user interface for everything you need to do. By using an off the shelf PC/Server plus the network instead of expensive, proprietary hardware, Userful saves money.
Userful is not just a video wall solution but a Visual Networking Platform used to drive and manage a both the video walls and the networked displays used for operational productivity, business communication, collaboration and customer engagement.
Userful's software takes an off-the-shelf PC/Server and turns it into a high-end video wall controller. It includes all the key features to quickly and easily control and display multiple content sources on the video wall in a flexible way. Manage and control the solution through the cloud or for sites with no internet connection, using the Local Area Network (LAN).
All the high-end features needed for control and command center video wall applications at the best price point.
"Any source, anywhere on any display at any time"
Want more?
Click here to watch one of our 20 min. recorded video wall webinars
Questions?
Click here to schedule a call with a video wall expert at time convenient to you.
How can we help?
Click here to set up a personalized 1-on-1 demo.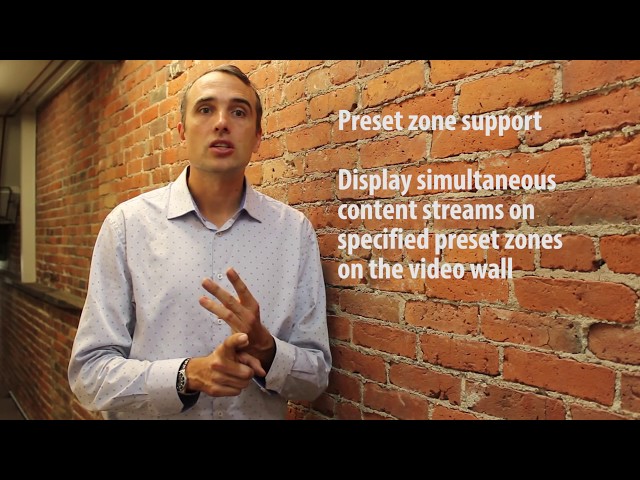 Userful has all the features of traditional video wall controllers and more.
But it's more flexible, more scalable, more affordable, and a whole lot easier to set up and use.
A Video Wall Controller for your Needs
Watch our Introductory Webinars
Get insights and learn how Userful's solution works in our pre-recorded introductory webinar and product demo right now.
Ease of use for end users and upfront cost savings make Userful unique in the market and highly attractive for our customers.
Marketing Manager at Matrix Communications
The system is intuitive and easy to set up. The cost is remarkably affordable for just about anybody.
Project Manager at ASI
What I like about Userful is that not only did it fulfill all our requirements but it did so at a great price.
SD of Innovation and New Tech
Results from Our 2018 Survey
Userful Is Easy-To-Use and Affordable
In a 2018 survey 85% of Userful customers say it's "easy to manage" or "very easy to manage" when compared to other solutions they have used.

In a 2018 survey, 58% of Userful customer say Userful was 1/2 the cost or less than other display management solutions they considered for their project.
Get Instant Pricing
Userful offers Straightforward, pay-for-what-you-need pricing. Don't overpay for your video wall controller.
Common Questions about the Userful Video Wall Controller
What is a video wall controller?
A video wall controller takes the content from an input source, splits it into different sections, and sends each section to its corresponding screen. They also have management interfaces for easier administration and configuration of display content. For example, the
Userful video wall solution
includes an intuitive browser-based management console that allows users to perform more advanced tasks, such as bezel correction, display pixel-alignment, and color calibration, as well as providing a platform to design unique artistic, mosaic-style displays.
Is there a difference between a display controller and processor?
What advantages do video wall controllers have over tile matrix switcher/scalers, or LED /LCD video walls?
What components, besides a video wall controller, do I need to deploy a video wall?
Do LCD / LED displays also have video wall controllers?
I am a system integrator, and my customers applications vary from control rooms, to retail, to sports and entertainment venues, etc; Is a video wall controller solution capable of addressing any of these use cases?
If I need more than one display setup, can I do it with a single video wall controller?
If I want to show multiple content at the same time on my display, can I do that with a video wall controller?
And what about if I want to show the same thing on all my displays?
If I want to change what is showing on my setup, how can I do it with a video wall controller?
Once I have my video wall controller, what can I do with it?
If video wall controllers are better, why aren't all solutions running on video wall controllers?