Userful Enterprise Av-Over-IP
Software-Defined Solution Delivers Any AV Source Using IP Technology Stack for Enterprise Applications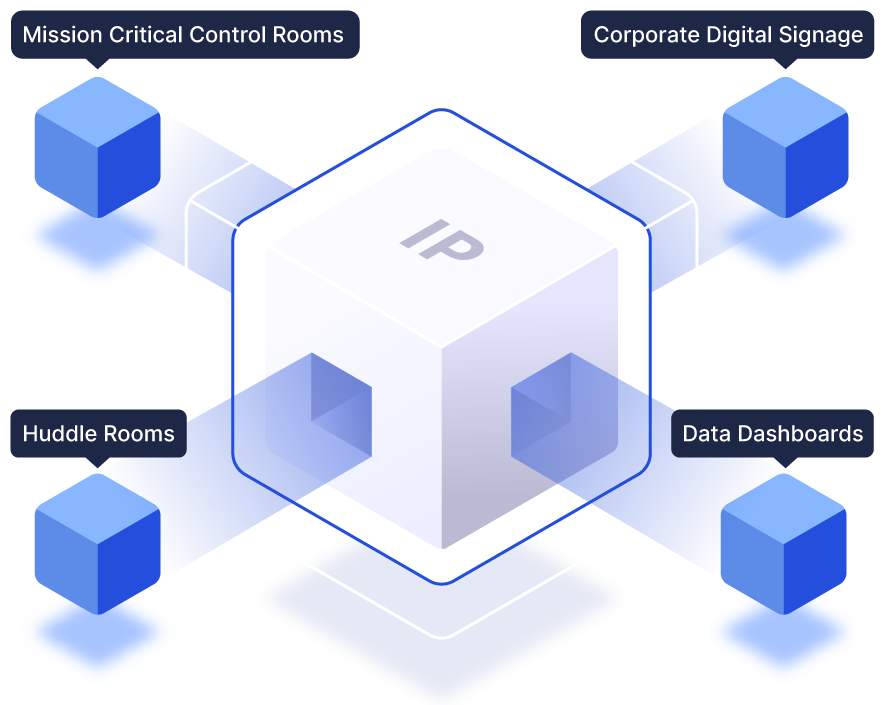 What is Enterprise
AV-over-IP?
AV-over-IP is the transmission of audio-visual information via data packets over an Internet Protocol (IP).
In the AV industry, it refers to using the network rather than using traditional audio-visual signal transmission. Enterprise IT teams have adopted AV-over-IP as the standard for secure, scalable delivery of AV sources and applications in a way that can be centrally managed and controlled.
1000+

Companies have already started using Userful's platform




Traditional AV Solution
While conventional AV solutions have added specialized encoders and decoders in an attempt to make their solutions AV-over-IP "ready", they have done it with encoders and decoders: cumbersome, proprietary hardware with limited scalability.

While these solutions may be using standard IP for transmission, they are:
Doesn't leverage the benefits of the software.
Lacking the scalability, security, and manageability required for today's enterprise deployments.
Userful & Software-defined AV-over-IP
Userful in contrast eliminates the encoders and decoders and fully embraces existing IP standards.

It is not just AV-over-IP, it is a software-defined standards-based AV-over-IP and relies on standard hardware, standard IT protocols and a standard network.
Delivers modernized services with Enterprise-level network management and security.
Offers integrated AV applications, from Digital Signage, to Command & Control, huddle and meetings rooms, and more.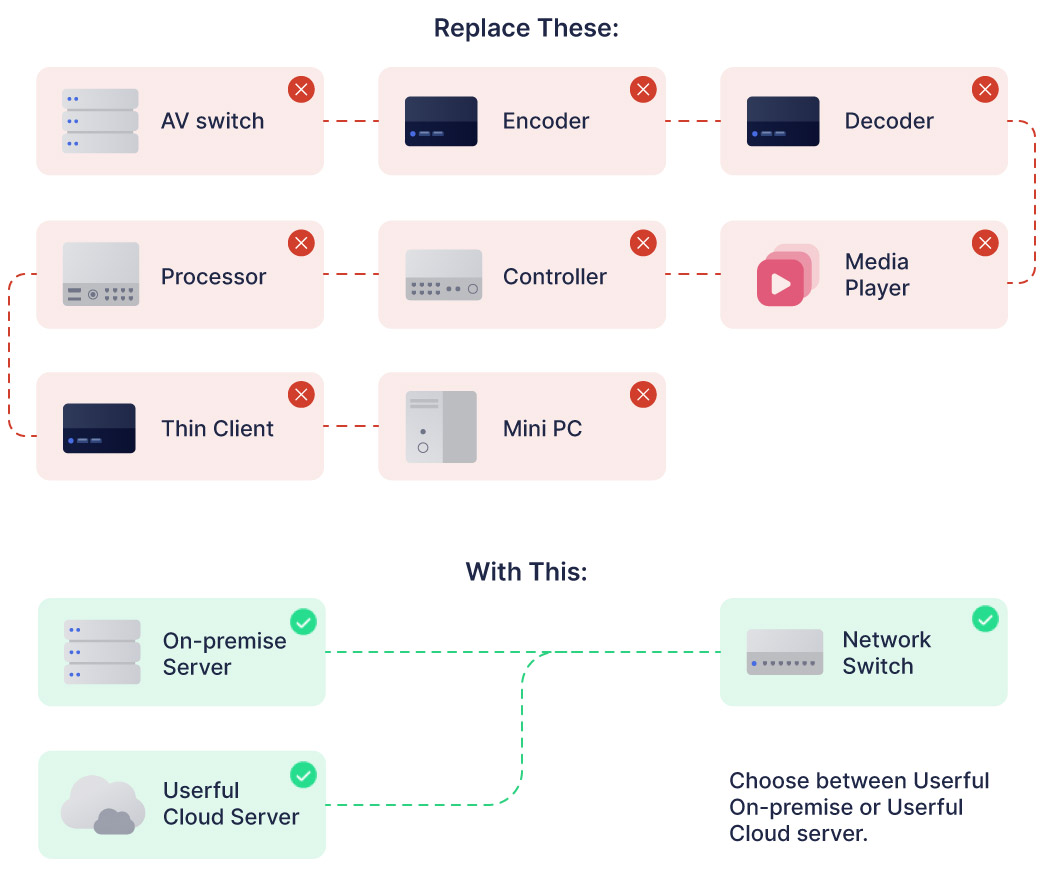 Userful's Enterprise
AV-over-IP
Userful's Visual Networking Platform can be deployed either on premise, using a standard, commercially available server connected to displays over the network, or a cloud based server that connects via the cloud directly to displays.
Server Option Benefits

Both options allow customers to deploy AV applications for a variety of use cases to address the many visual collaboration, engagement and communication needs of their organization.
A Secure Platform

Userful's approach to Enterprise AV-over-IP ensures the IT team has a secure, scalable platform that is globally managed and runs on IP standards using only off-the-shelf commercially available hardware.
From Any Location

On the Userful platform, the IT team can deliver the visual applications the company's departments and team leaders need and allow those teams to manage and control the applications themselves—from data dashboards and corporate signage to situational awareness solutions for mission-critical control rooms.
Key Benefits
Benefits to Standards-based Enterprise AV-over-IP
No Proprietary Hardware
Reduces costs and simplify infrastructure.
Scalable
AV-over-IP is easier to support, update and deploy projects.
Secure
Standards-based approach ensures enhanced security.
Globally Deployable
IP based solutions can be operated & fully managed in the cloud.
Pricing Sheet
It's Easy to Get Started, View Our Pricing
This pricing information sheet will help you budget for and plan your next deployment with product comparisons and feature breakdowns.
Download Pricing