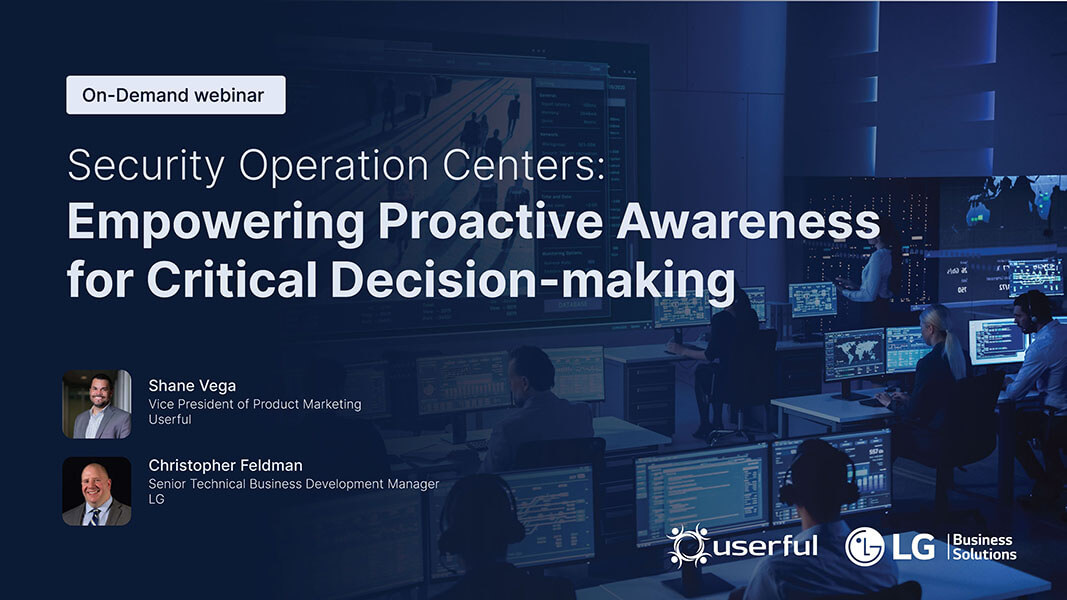 On-Demand Webinar
Security Operation Centers: Empowering Proactive Awareness for Critical Decision-making
Leveraging advanced display technology in Security Operation Centers
Security Operations Centers need to be proactive to be effective. But managing the sheer amount of data without the right technology infrastructure can quickly create data silos leading to reactive workflows that significantly impact an organization's ability to take the right actions rapidly.
Userful and LG's integrated AV-over-IP solution for Security Operations Centers frees IT teams from the limitations created by proprietary AV hardware and ensures the secure flow of information across networks for improved physical security measures.
This roundtable webinar brings Subject Matter Experts from Userful and LG Business Solutions. The panel will discuss why software-defined solutions provide a more flexible and scalable solution and change the way operators and stakeholders get the right information at the right time for effective and proactive incident response.
Learning Outcomes:
Provide operators with critical security information in real-time to their video walls and workstations.
Design your SOC to provide access to all information from specific sources, systems, or even other sister sites and share it in a secure and efficient manner with critical stakeholders.
Provide insights, approvals, and escalations during a response no matter if the critical stakeholders are in another room, building, or geographic location.