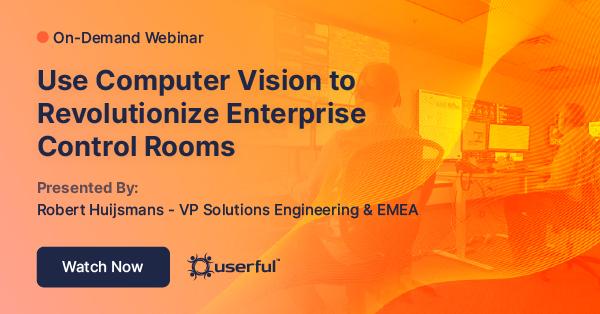 On-Demand Webinar
Use Computer Vision To Revolutionize Enterprise
Join Userful, Network Optix, and Senturian Solutions to learn how to turn metadata created by computer vision applications into actionable business intelligence.
In this joint webinar, we'll give a live demonstration to combine IP video management (Network Optix), and AI-driven analytics (Senturian) with video walls and display solutions (Userful) creates a system that supports real-time monitoring of mission-critical infrastructure, physical security, workplace health & safety, and more.
The Userful API is a powerful tool that allows integration of AI, IoT, external devices, and other digital applications to Userful's Visual Networking Platform for efficiently managing and operating your digital display solution.
What will be covered in this webinar:
How to improve operational efficiencies and response times with AI
How to create active tangible information from both big data and from the ever-increasing number of video sources available
How to handle these key pieces of information to improve mission-critical response times.