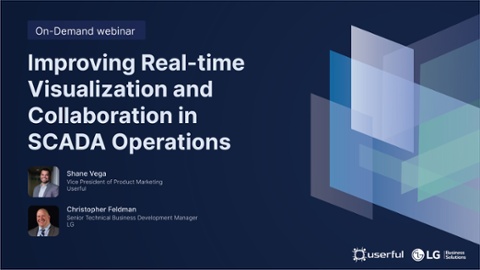 On-Demand Webinar
Improving Real-time Visualization and Collaboration in SCADA Operations
How to leverage advanced display technology in Energy, Utilities, and Manufacturing
In the past, Operation Centers running SCADA mapping systems in manufacturing, energy, and utilities have been forced to use AV solutions built on specialized proprietary hardware which adds complexity and costs, restricts the free flow of data, locks customers into a single vendor and can even result in unexpected security risks.
Userful and LG's integrated AV-over-IP solution has changed the way SCADA systems are monitored in manufacturing and utilities, freeing companies from the restrictions and costs of proprietary hardware. Userful and LG offer easier regulatory compliance, free flow of data and a lower total cost of ownership.
This roundtable webinar brings Subject Matter Experts from Userful and LG Business Solutions. The panel will discuss the next-generation architecture and how SCADA operations centers can now manage and connect real-time information to a global network of stakeholders — empowering better decision making.
How to avoid points of failure and compliance risks caused from proprietary AV hardware.
How to leverage the benefits of software AV-over-IP architecture to ensure teams get the right information at the right time.
How to replace reactive workflows with proactive and dynamic workflows.
How to future-proof your technology stack with software and lower your total cost of ownership (TCO)