Dec 16, 2020 12:00:00 AM
·
7 min read
The Borderless Control Room

Userful
The Leading Software-Defined AV-over-IP Platform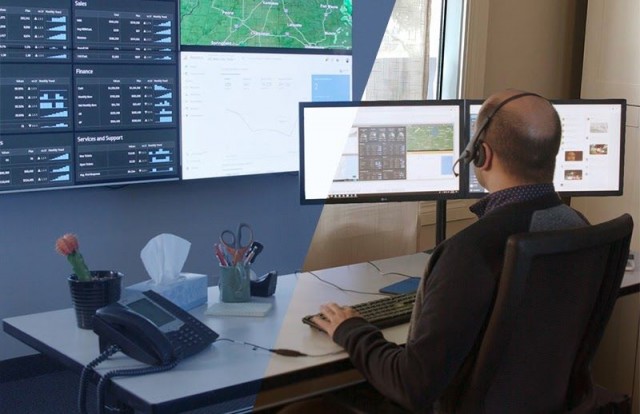 What you need to know to improve response times and work beyond the 4 walls of your Operation Center
In today's world, all business operations have become borderless and the infrastructure for mission-critical decision-making should be no different. In the age of digital transformation, organizations deploying operation centers and control room infrastructure need to ensure they deploy a system that can connect beyond the four walls of the operation center and delivers situational awareness to the stakeholders who need it, wherever they are.
A Borderless Control Room or Operation Center is a mission-critical solution that removes borders by enabling remote situational awareness without geographical or physical constraints.
The COVID 19 pandemic has accelerated the need for borderless operations in every corporation. The sheer number of people working from home changed the definition of "the office" and more than ever before, it has shown us that we need to communicate and collaborate beyond the four walls of the office--and beyond the four walls of a mission-critical operations center.
In this blog, we will:
Explore the importance of the borderless control room in today's world
Examine the implications it has for true situational awareness
Survey technology options for those looking to remove the borders from their control rooms
The Case for a Borderless Control Room
To give concrete illustration to the need for borderless control rooms, here are some recent examples Userful has seen of customers seeking a solution that connects beyond the four walls of their operation centers and why that's important for their business needs:
A European manufacturer needed a solution that would allow them to oversee the remote operation centers at their plant locations from inside their HQ operation center. This was to ensure better process oversight and quality control as well as to ensure they could deliver better support in case of local emergencies.
A software company sought to connect all their operation centers and to ensure even local HDMI sources could be shared across multiple operation centers for business process optimization.
Two airports covered by a single airport authority needed full operation center redundancy between the two locations.
A national border guard in a Middle Eastern country needed the video wall in their HQ to oversee the video walls at each border post, and the content on all those video walls.
A US-based real estate holding company wanted to have video streams in their SOC easily pushed out to the smartphones of their security guards.
Professionals involved in mission-critical infrastructure often talk about situational awareness as a cornerstone for decision-making. This of course begs the question of what situational awareness actually is, and beyond that who should have this situational awareness? How do you deliver situational awareness to stakeholders outside the walls of the control room?
The last example above of the US-based real estate company that wants its security guards to receive video footage from their SOC makes it clear that it's not just the operators inside the SOC that need situational awareness. Those who need the information, video, or data from a control room might not be in the control room, in fact, they might not even be on site.
True Situational Awareness and the Borderless Control Room
True situational awareness only exists if it enhances the way key people make critical decisions in real-time. With this definition in mind, delivering true situational awareness certainly means that an operation center or control room needs to operate beyond its own four walls.
Consider some of the many scenarios in which key people involved in mission-critical decisions might not be within the four walls of the operations center:
Key may be personnel working from home
First responders may be in the field
If upper management needs to be kept informed, they may be located in a different part of the country, or even in a different country
Another agency providing oversight may be located in another office.
Due to an emergency onsite, it may be a team in a second redundant location that is helping make decisions
In today's interconnected world, scenarios such as these are more common than they ever have been before. In each operation center, a video wall or display solution that is only visible to local operators is not sufficient.
This leads to the question: what can be done today to implement a truly borderless control room.
Userful and the Borderless Control Room
In the past AV solutions for mission-critical display, solutions have tended to be hardware-focused using either proprietary or specialized hardware. This is not an approach that will work for a borderless control room. Visual display solutions that allow collaboration beyond the four walls, need to be software-based and should be built with an open technology approach: ensuring flexibility for customers, with maximum integration options via an API. Any viable solution will also need to be network and cloud-connected to ensure it can operate securely and seamlessly across multiple locations.
These criteria perfectly describe Userful's Visual Networking Platform, a software solution that allows operators to stream any content source onto any screen globally in real-time. Userful operates on standards-based hardware, connects from an on-premise (or cloud-based) server to screens, video walls, and LED walls over the network, and allows operators to control and interact with sources either locally or through the cloud.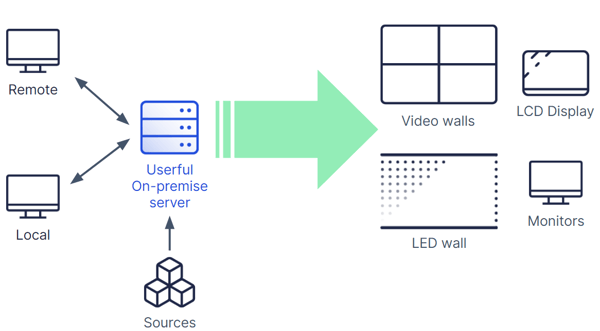 It's important that any solution for operation centers meets the needs of the operators within the four walls of the operations center. Userful is certainly a feature leader in this regard. Userful offers:
The ability to display any source anywhere on any display for situational awareness
Real-time interactivity (software KVM) from a desktop
Drag, drop and resizing of windows in WISIWIG interface
Role-based access control (RBAC) with SAML, LDAP integration
API integration with VMS's for Computer vision, AI, IoT triggers
Supervisor dashboard for remote monitoring of the content on multiple video walls
Full redundancy with a failover server
Enterprise security
In today's interconnected world, addressing the needs of the operators within the operation center is table stakes. What's important for organizations moving forward is the flexibility, scalability, security, and feature set needed to connect beyond the four walls and to allow teams to operate in a truly borderless way.
On this front, Userful is the clear market leader: Userful's software and platform architecture with its cloud management capabilities make it uniquely suited to connecting over the network to ensure all stakeholders and decision-makers, wherever they are located, have the visual information and data needed in real-time.
Userful's Virtual Operations Center offers customers remote access to an operation center video wall from any desktop. Operators working from home or elsewhere can securely access the same visual sources laid out exactly as they are on the video wall inside the operation center. They can interact with those sources, create and save layouts that are also visible to those inside the four walls of the operation center.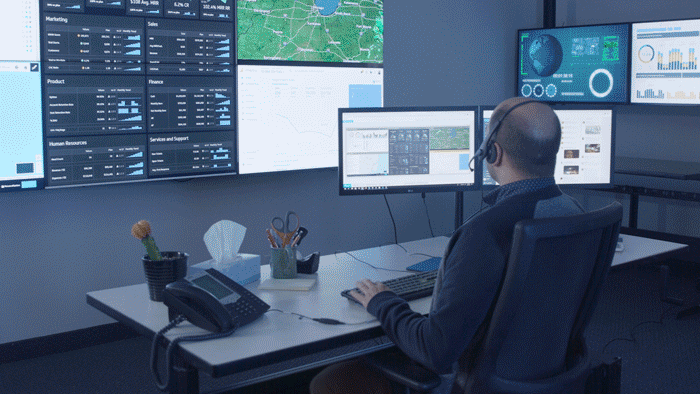 This setup with remote access to visual sources placed on a video wall does not actually require a physical video wall. It can be run with no video wall at all, a "virtual video wall" with multiple sources displayed on a desktop screen.
Userful can also be set up to share sources, across locations allowing operators with a video wall in one location to access sources from a Userful server set up in another location allowing another level of borderless operation--seamlessly sharing content across sites.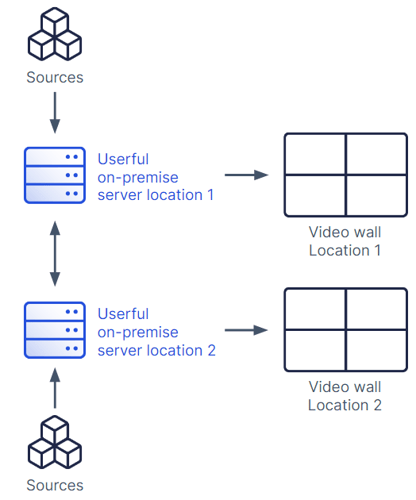 When investing in the infrastructure of an operations center or control room it's important that companies take advantage of solutions that leverage the network, software, and the cloud to allow true situational awareness even outside the four walls of the control room. In a post-digital transformation world, the sharing of information and data for decision-making has never been easier, but unless companies invest in the right solutions to drive their video walls and displays, they may be stuck in the siloed world of traditional AV.

Userful
The Leading Software-Defined AV-over-IP Platform