Jan 4, 2021 12:00:00 AM
·
6 min read
How Userful Works with LED panels (Single & Multi-Controller)

Userful
The Leading Software-Defined AV-over-IP Platform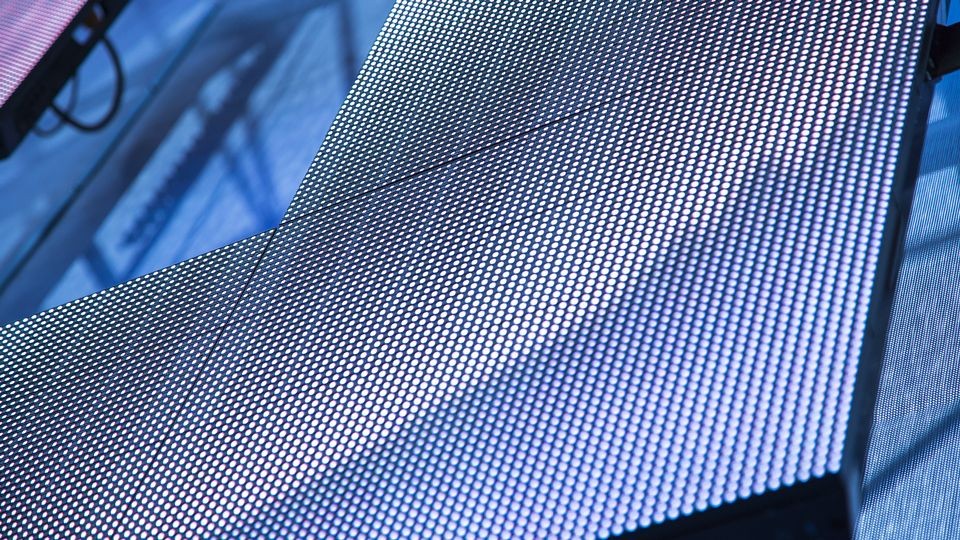 Over the past few years, direct view LED walls have been rapidly growing in market share over the traditional LCD video walls. One reason for this change is that LED walls have dropped dramatically in price. Another reason is that the resolution of LED walls has steadily increased with a lower pixel pitch delivering higher resolution. In addition LED walls offer a cleaner visual canvas with no bezels. The final and perhaps most important reason: LED walls have a higher threshold for heat which helps ensure a significantly longer life.
Over the past few years, there have also been significant changes in the technology available to control and manage the LED walls, and the content on them. This white paper will examine these technological changes.
The Challenge with Traditional LED Video Processors and Media Servers
Traditional video processor systems for LED--such as Christie's Spyder or Barco's S3 have been the go-to solutions for deploying the large LED wall displays. In the past, this kind of expensive AV equipment was necessary to achieve the large LED wall displays known as spectaculars--those seen in Times Square in New York or in large retail outlets. However, technology has changed--LED walls are being used for a lot more than just spectacular displays, and the solutions needed to deploy them no longer need to be so expensive and no longer need to run on specialized or proprietary hardware.
Over the past few years, the rapid increase in computing power in off the shelf hardware--as seen in the capabilities of Nvidia's current GPUs, combined with the ever-increasing CPU capability from Intel--has allowed companies like Userful to provide the same level of processing power, synchronization and resolution capability using software, the network and a commercially available off the shelf server rather than proprietary or specialized hardware.
The increase in CPU and GPU capability over the past decade has been a key driver in transforming AV from an industry focused on hardware solutions to an industry driven by software and network-based solutions. The days when expensive proprietary hardware was needed to deploy an LED spectacular or any other type of direct-view LED wall, are over. Instead, companies like Userful allow organizations to deploy large, interactive multi-controller LED walls with a solution that is software-driven, managed through the cloud, adheres to enterprise security and management standards, and requires only commercially-available-off-the-shelf hardware that will be familiar to any IT professional.
One of the important benefits of this is cost savings. Specialized, proprietary hardware always comes with a hefty price tag, and Userful's approach of standard, commercially available off-the-shelf hardware drives down costs. However, there are other important advantages to being able to drive direct view LED walls from software and network-based solution that runs on standard hardware.
Leveraging Hardware and Commercially Available, Off-the-shelf Hardware
By adopting a software-based solution, customers can purchase a single product from a single vendor that includes all the enterprise management, security and control features they need.
In contrast, most traditional video processors used to drive LED walls in the past have required additional management and software packages and layers added on and integrated to deliver the essential management features expected in an AV deployment today including:
Role-Based Access Control (RBAC)
WYSIWYG Command and Control to interact with content on the wall directly from their desktops.
Sharing of content across sites in a multi-site deployment
Cloud management
Supervisor Dashboard for remote managers to monitor content
Enterprise-class security
Remote access to ensure content can be securely accessed from any location.
Native Browser and Desktop Sessions
Monitoring Tools
Flexible windowing including a picture in picture and multi-window
API for integration with third-party apps and devices
Scheduling of content changes
All of these features and more are included and ready to go out of the box with Userful. Most video processors simply don't have these advanced features available. While some companies that sell hardware-based video processors offer add-ons or separate hardware or software packages to augment the functionality of their video processors, that approach increases costs still further and adds complexity.
Userful LED Wall Configuration
Userful offers customers two configuration options for direct-view LED walls, one is connecting an LED controller to the Userful server over the network. The other allows customers to directly connect the LED controllers to the Userful server.
LED With Userful UClient Adapter (Single Controller
)
For 1080p or 4k walls with a single LED controller, customers connect that single controller to a Userful adapter which in turn connects over the network to a Userful server. That server can be on-premise or in the cloud. (Deployments that are predominantly video or digital signage can use a cloud server while deployments with more complicated multi-source image processing need an on-premise server).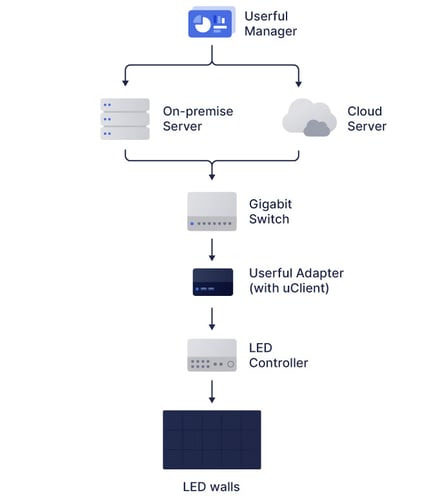 LED Media Commander
For any LED wall that requires multiple controllers, Userful offers genlock synchronization for flawless image quality across panels connected to multiple LED controllers. This level of synchronization is uniquely important in an LED deployment that has no bezel meaning the human eye is much more sensitive to even the slightest tearing or seaming between LED panels. Userful achieves perfect synchronization between LED panels by connecting each LED controller directly to a server. This server is still an off-the-shelf commercially available server, still runs Userful software, and is still controlled using Userful Manager, but it is directly connected to the LED wall controllers.
This approach supports the highest resolution and the most LED panels, and it eliminates the proprietary and specialized video processors and media servers that used to be required to deploy spectacular LED walls.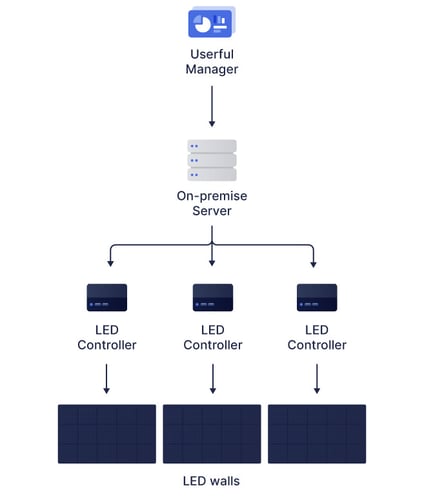 Userful is the Smart LED Solution
Userful is a smart LED solution uniquely positioned in the marketplace for IT teams to deliver higher ROI and a lower TCO on any LED wall deployment. It offers important advantages over the traditional video processors that have been deployed to support LED walls in the past including.
Userful's open technology approach of using only standard, commercially available off-the-shelf hardware reduces costs.
Useful comes with an advanced feature set and enterprise management tools built into its software reducing customers' dependence on additional add ons or integrations.
As a software solution that is continually updated, customers can rely on the fact that their systems will grow with them over time with new software releases.
As a software platform, Userful reduces the silos that exist with traditional AV. In the past organizations have had to buy different solutions for LCD video walls and LED walls, different solutions for an operation center display solution, and a digital signage deployment. Userful removes all those silos with a single solution for any display application enterprise-wide.

Userful
The Leading Software-Defined AV-over-IP Platform