Jun 27, 2023 12:16:18 PM
·
3 min read
Userful Unveils New Features & Operations Center Collaboration Solutions
Userful
The Leading Provider of AV as a Service (AVaaS)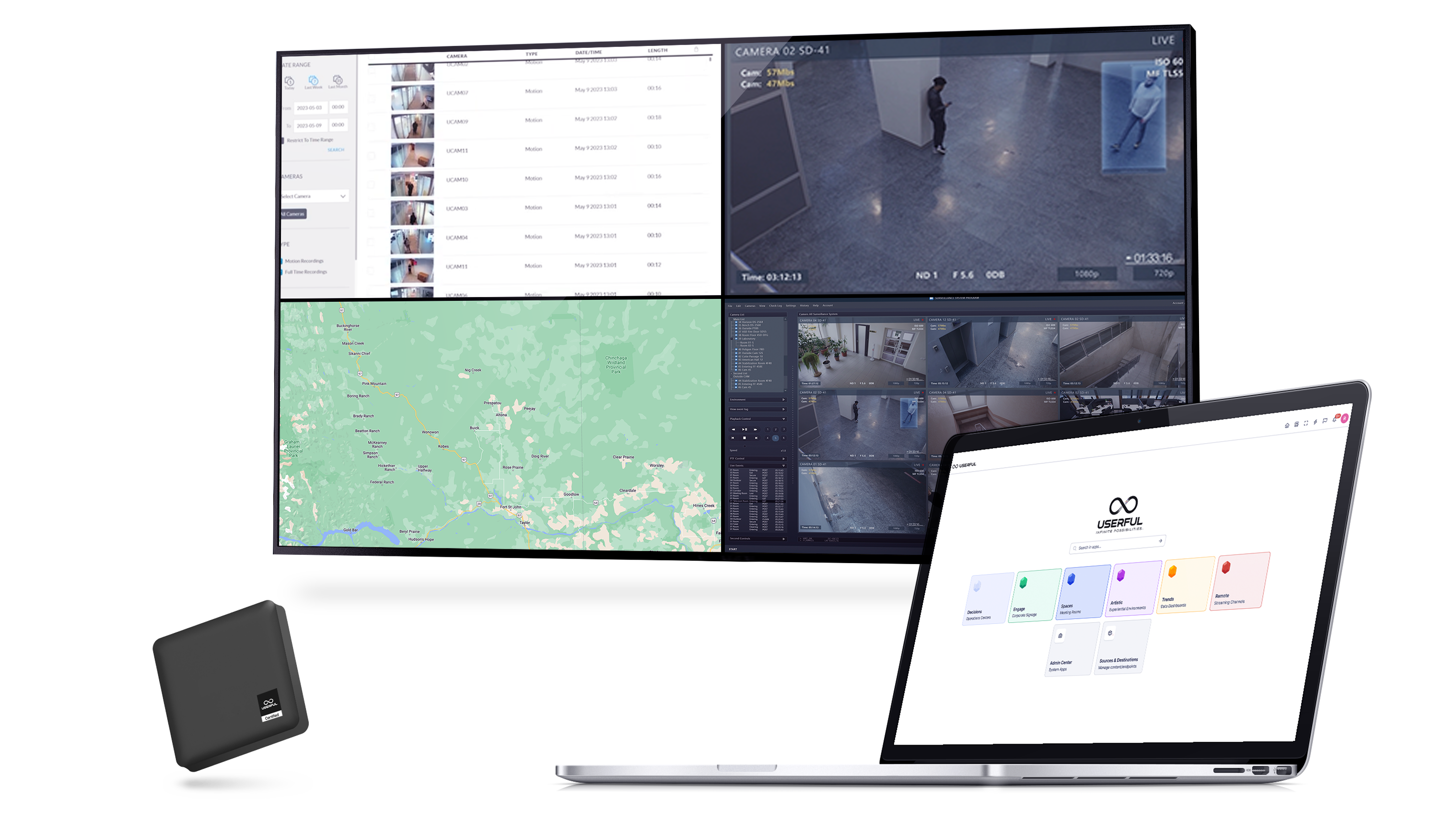 We are excited to introduce the latest enhancements to the Userful Infinity Platform™, which will bring significant changes to the world of enterprise AV-over-IP. Our software-defined platform offers a range of powerful features that aim to transform how IT leaders handle and leverage the potential of their AV systems. We invite you to explore the future of enterprise AV-over-IP with us and continue reading to learn more about our latest advancements.
Comprehensive Suite of Operations Center Collaboration Solutions
The Infinity Platform's comprehensive suite of features and the release of our Operations Centers Plus license take mission-critical collaboration to a new level by providing everything you need for your operations center at one price. Imagine seamlessly managing LED and LCD video walls with Decisions, a multi-source command and control solution. To boost operator productivity, the platform introduces uConduct to empower advanced operator workstations. And let's not forget about Spaces, which offers war room collaboration tools that empower real-time, dynamic responses without disrupting daily operations within the operations center. Further to that, we've built uControl, a feature that simplifies remote control functionality by allowing users to push content across displays with a single click. But, that's not all - Userful's content delivery network (CDN) and broadcast alert features ensure emergency mass notifications and custom messages reach every Userful managed display in an instant.
Infrastructure Efficiency Amplified
Say goodbye to content streaming headaches with our forward and store feature, designed for single-display signage applications. Now, you can effortlessly distribute digital signage on a scalable level without straining your servers. Choose between server players for flawless synchronized playback on video walls or uClient players for scalable playback on individual screens. With H.265 support, the platform enhances bandwidth efficiency for streaming over corporate networks, saving precious resources. Plus, the expanded firmware management and version support lets IT managers stay up-to-date with Android enterprise firmware updates for their uClient adapter devices, ensuring a certified OS build.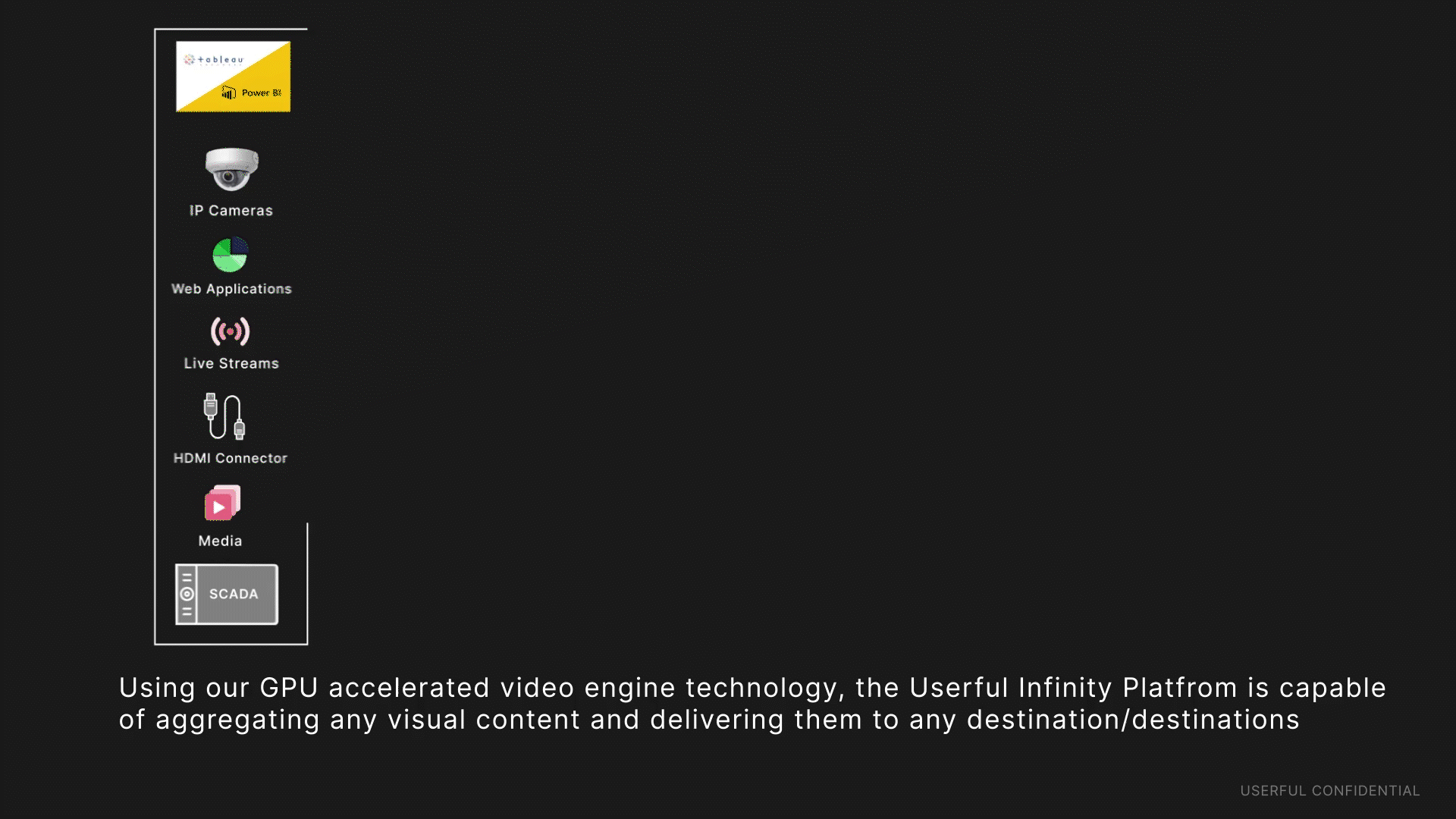 Unleash Flexibility and Interoperability
The Infinity Platform empowers users with unprecedented flexibility and interoperability. With the Platform API, you have the power to programmatically switch operation room layouts and customize text across connected displays, boosting workflow efficiency and decision-making prowess. Say hello to PowerBI enhancements that seamlessly integrate into any operations center environment, providing data-driven insights for operational signage. And guess what? You can now curate secure remote channels using YouTube-hosted videos with the platform's YouTube integration and embed options. Talk about taking customization to the next level.
Mastering Manageability and Security
The latest release takes manageability and security to new heights, catering to the needs of IT professionals. Dive into the live monitoring dashboard, offering real-time insights and proactive alerts for network, CPU, and GPU utilization. The IT-first management interface is robust, allowing targeted permissions and restrictions, giving you unparalleled control over user management and access. Detailed user access logging ensures accountability and compliance, streamlining auditing processes.
The Future is Here
The Userful Infinity Platform is dependable and robust, promising to provide a powerful solution within the landscape of enterprise AV-over-IP. By integrating security, scalability, and interoperability into a unified software platform, Userful simplifies environments, reduces costs, and elevates user experiences. To discover more about the Userful Infinity Platform and Operations Centers Plus solution and the latest capabilities, visit our website at
https://www.userful.com/infinity.
Userful
The Leading Provider of AV as a Service (AVaaS)