Aug 11, 2021 11:00:00 AM
·
5 min read
Advancing The Future Of Corporate Digital Signage

Daniel Hurtado
Product Line Manager - Applications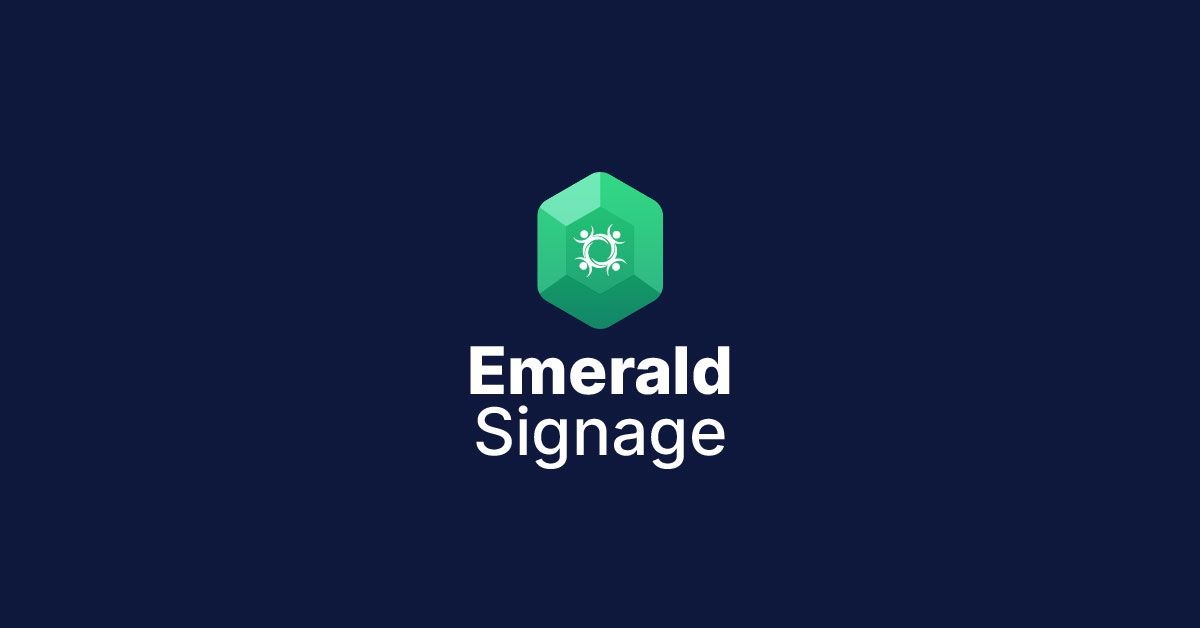 Introducing Emerald Signage by Userful
There is a wide variety of options to choose from in today's digital corporate signage landscape, but a common problem amongst them is that the options often lack employee accessibility, scalability, and manageability. The existing solutions foster a siloed approach to visual engagement by limiting who can access the tools which in turn decreases collaboration and provides added workload for IT teams.
In fact, organizations are actually looking to use digital signage internally in an effort to connect the workplace and break down communication silos. And, when it comes to the management aspects of corporate digital signage, organizations want employees to have more granular control over content creation tools and applications rather than just leaving it to the IT department. This results in increased cross-departmental collaboration, improved visual engagement, and enhanced communications across the organization.
Introducing the Emerald Signage Solution
Our new Content Management System (CMS) requires no extra hardware and can be added on top of any current or new Userful deployment. Simply put, it's a content management tool that provides the front-end application that allows any department or employee to author and post content to any Userful screen. The solution is perfect for:
Corporate communications

Retail digital signage

Campus signage

Healthcare signage

Food and beverage service
Why is Emerald Signage unlike any of the digital signage/CMS out there?
Emerald Signage is part of Userful's Visual Networking Platform, allowing IT teams to give full independent control of the content authoring, delivery, and management to each individual department while retaining full administrative control—and thus ensuring scalability, security, and manageability—over their display infrastructure.
Userful's platform integrates seamlessly into the IT stack—running on the existing network and using commercially available off-the-shelf hardware. It allows IT departments to manage their screen infrastructure at scale and empower the end-user to stream any source to any display at any time in real-time. With Userful's Emerald Signage and Visual Networking Platform, IT can concentrate on the administration of the infrastructure and the content creators can focus on curating the content.
Canvas Content Creator
Over 400 templates included to easily create custom content for any messaging or occasion
This allows organizations to curate content easily as well as edit it. The built-in library holds over 400 templates that can be used to develop any type of engaging digital signage from real-estate to health care, the options are limitless. Logos, images, and text can be added easier than creating a PowerPoint! Additionally, there is a built-in QR code generator that comes as part of the editing tool that enables the creation of QR codes that can be placed anywhere.
Show Templating
Create a custom canvas to showcase multiple sources at once
We purposely added this feature after hearing our customers wanted more flexibility in the ability to showcase a variety of content on a single screen and have it look formatted and well organized. The same template can be accessed across multiple locations worldwide since they are available on the same cloud server. The show templating feature provides the ability to take any source and place it anywhere in the canvas at any size or aspect ratio including tools and widgets. Emerald Signage live widgets and integrations make it easy to leverage existing sources of content including social media, news, weather, and video platforms to name a few, and display them in a single view.
Role-Based Permissions and Access
Assign user roles, create custom roles, content approval workflows, and folder access
This feature was developed because we know organizations often want to set up employees in different ways and with Emerald Signage you can customize the access and content creation roles for each user. With Emerald Signage, IT controls the level of accessibility and can assign who will be the designated content creators such as location managers and administrators, and also set who will have permissions including content approval and schedules.
Additionally, targeted distribution is very easy with Emerald Signage. Users can target sections of displays and send content playlists or schedules directly to the displays as needed by leveraging the tagging feature that is built into the application and tag different screens with different tags. For example, if a user wanted to target all the lobbies in the company, it's as easy as sorting the screens by lobby and then deploying a playlist or schedule directly to the screens.
Users also have the ability to pull in local secure sources, like cameras, secure dashboards, and local HDMI inputs, which many traditional digital signage content management systems by themselves are not able to do.
Enhancing Corporate Culture
Build a corporate culture with on-brand messaging that engages employees
It's now easier and more convenient than ever to curate and send out employee messages through the advanced corporate digital signage options with Emerald Signage. Specifically, It can be used as a powerful tool for HR to improve internal communications by providing enhanced visual messaging initiatives including:
Employee recognition programs

Company profiles

Corporate events

Department announcements.

Guest welcome messaging

Organic social media content

Product demos
A Modernized Services Platform To Improve Visual Communications
In today's digital communication landscape, businesses are moving to a SaaS approach —whether it is instant messaging with Slack, video conferencing with Zoom or Teams, sales, and marketing via Sugar Customer Relationship Management (CRM), Salesforce, or Hubspot.
However, the AV industry has been traditionally stuck in the old hardware-based approach, but as AV deployments are becoming more and more a part of the IT department's laundry list of responsibilities, it is only fitting that AV solutions follow the lead into a SaaS world and Userful is leading the charge of the software-defined AV solutions.
Emerald Signage is the first of the family of end-point applications within our Visual Networking Platform, aimed to provide a Platform-as-a-Service (PaaS) approach to visual communications and engagement for the enterprise. Emerald Signage can deliver more use case flexibility with applications for digital signage, control rooms, dashboards, and any source to any type of display, from single screens to large video walls.
To learn more about Emerald Signage watch our on-demand webinar.
Have any Questions?
Talk to a sales representative today
Talk to Sales

Daniel Hurtado
Product Line Manager - Applications
daniel.hurtado@userful.com