Video walls are the gift that keeps on giving, which is why they're a great investment for any end-of-year funds you may have. Here are just a few of the many ways a video wall keeps on giving and so should be on your end-of-year shopping list...
High Return on Investment
Video walls have a great ROI. They are a one-time investment that can attract customers, promote your brand, transform the look and feel of a space or help monitor performance metrics to make better business decisions.
High Visibility for Stakeholders
Whether it is to showcase your brand, deliver a message, highlight your company's key performance metrics, or monitoring your operations, a video wall is a perfect platform to let your stakeholders and investors know how well your company is doing, and make sure they focus on the important stuff.
An Investment in a Video Wall Is an Investment in Your Company's Message
There's no better way to engage with your audience than a video wall and there's no better way to get your company message across. Video walls attract attention like no other medium. If your company's message is important, a video wall can help.
An Investment in a Video Wall Is an Investment in Your Team
Teamwork today is about collaboration and about access to key data. There's no better way to keep your team up to speed with information and data than a video wall. Interactive video walls allow for collaboration and help build a shared understanding of key information points to facilitate better decision-making. Now's the time for a video wall in your huddle room, conference room, boardroom, or on the office floor.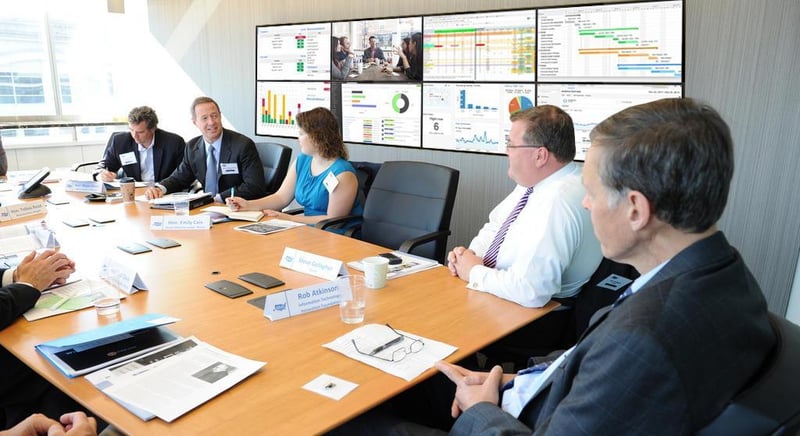 Video Walls Are More Affordable than You Think
The days of the expensive video walls are over. Nowadays video wall technology is more affordable and accessible than ever. Powerful and flexible solutions like Userful, give you ultra high resolution content on multi-source, multi-zone video walls of up to 100+ screens using a standard PC and Network architecture.
If you have remaining funds from your year's budget, video walls are the way to go: the gift that keeps on giving.