Mar 18, 2020 12:00:00 AM
·
3 min read
How Digital Displays and Video Walls Are Helping Fight COVID

Userful
The Visual Networking Platform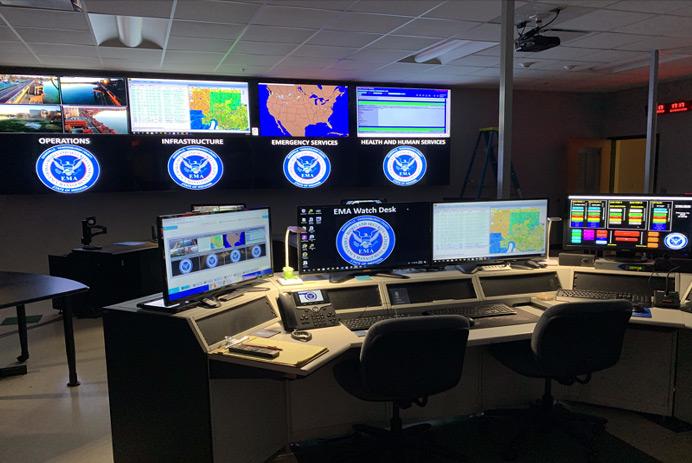 The rapid spread of COVID-19 had alarmed governments and health officials around the world and made it clear that real-time data monitoring is key in the battle. Every level of government and every health agency need to be making informed decisions with contextual awareness. They need social media monitoring and news coverage at their fingertips, need to be up to speed on call counts, wait times and hospital resource availability—including beds, medical supplies, staff, etc. They need to be ready with hotspot mapping and video conferencing.
A war room equipped with a video wall is invaluable in coordinating any pandemic or outbreak response plan, ensuring the right priorities are set and that timely pandemic response has proven health outcomes.
Operation Center video walls from Userful allow operators to view an unlimited number of real-time content sources anywhere on a single display or video wall— live camera feeds, TV broadcast, Web browser dashboards, desktop applications and more. Supervisors can remotely monitor both operators and the video wall and with real-time data and information at their fingertips, government officials and healthcare professionals can make informed timely decisions.
Speed of Deployment is Vital
Today, as events are moving so quickly, organizations need to be able to rapidly deploy screens and video walls for real time monitoring, and yet so many traditional AV solutions are dependent on proprietary AV hardware. With distributors and even shippers struggling to maintain their supply chain, a hardware solution that needs to ship from a warehouse isn't an option. Instead, organizations can leverage a software solution that can be run on standards-based, commercially available hardware (they might even be able to repurpose existing equipment) and works with any display. This is why the Userful Visual Networking Platform is the right choice for anyone in need of new solutions in the fight against Corona.
Userful is a software platform that installs on a PC or Server and connects over the network to as many displays as are required. Userful works with any type of display and that single server (with the option for a backup) drives all the content on the screens over the network. . All installation can be done with Userful's remote support and installation staff and in the words of Nick Adams, Deputy Director of Emergency Management Association in Evansville, IN: "I had an operational wall in 4-6 hours! From setting up and installing the hardware to configuring the server and software."
It's Easy to Get Started, View Our Pricing Tiers
Tiered Pricing Information
Product Comparison Chart
Feature Breakdown