Oct 31, 2023 11:07:05 AM
·
2 min read
Userful's Latest Advancements: Enterprise Display Management, New Integrations, End-Point Monitoring, and More.

Daniel Hurtado
Product Line Manager - Applications
Userful's Infinity Platform brings exciting news for organizations seeking to harness the power of data analytics and enhance their operational efficiency.
uControl
Userful's uControl, powered by the Infinity Platform, provides a simplified remote control touch interface for effortless content management. The interface is intuitive and allows users to simultaneously control and configure content across multiple destinations. uControl provides a level of convenience and efficiency to completely optimize user and operator experience.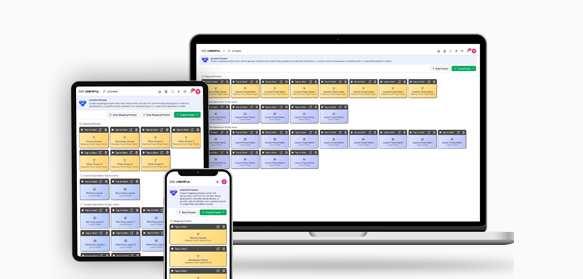 Integration with Tableau
In the latest innovations, Userful introduces a secure integration with Tableau, allowing users to set up Tableau dashboards that are persistently accessible and securely distributed through the Userful Trends application. Additionally, Tableau sources can be configured in Decisions for use in operations centers, offering seamless compatibility with a leading business analytics platform.
Integration with NovaStar
Integrating with NovaStar enables precise control over blackout periods, enhancing power-saving capabilities and extending the DV-LED panels lifespan. This integration also allows dynamic adjustments to brightness levels, optimizing visibility and reducing energy consumption based on lighting conditions. NovaStar's control capabilities promote a sustainable and eco-friendly approach to display management, aligning with energy-efficient practices and minimizing your carbon footprint.
End-Point Monitoring & Alerts
To ensure continuous uptime and deliver reliable deployments, Userful has implemented end-point monitoring. IT administrators can monitor uClient's status and determine if the device is active or facing an issue. This aids in rapid issue detection and minimizes downtime.
Discover more about these features and other significant advancements to the Infinity Platform by reading our release notes.

Daniel Hurtado
Product Line Manager - Applications
daniel.hurtado@userful.com