Jun 15, 2018 12:00:00 AM
·
6 min read
Infocomm 2018: Userful Cloud & AV over IP

Userful
The Visual Networking Platform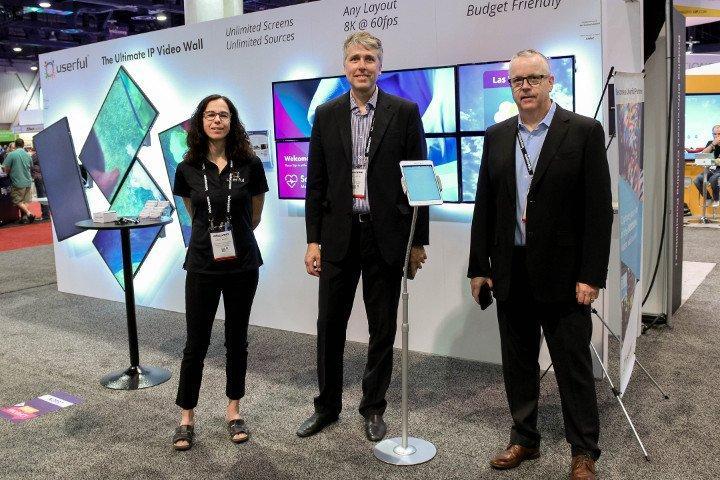 What an amazing show we had at Infocomm 2018. This year we had our own booth, where we showcased our artistic video wall and interactive features—for use in Office, Dashboard and Collaborative environments, as well as in control rooms and command centers:
Partner's Artistic Video Walls powered by Userful
Userful was chosen by some of the biggest display manufacturers to power their artistic video walls. The ease of setup and ease was a key feature that allowed our partners to deploy such unique looking video walls in no time, for which they were highly pleased.
Presentations and educational sessions
The rise of AV-over-IP over the past two years is revolutionizing the AV industry. As Userful's video wall controller leverages this approach, our CTO, Tim Griffin gave an insightful presentation on the topic, accompanied by a remarkable group of guests. The goal was to help the audience understand how AV-over-IP works, and what are the advantages of this method.
Tim, accompanied by Marielle Crisanti from Matrix Video Communications. also gave a presentation on Digital Signage in Sports Venues. Here they showcased the power of digital displays in providing memorable experiences to fans. Of particular relevance was the fact that live event venues are fast-changing environments (i.e. one day they host a hockey game, the next a country music concert, and the next a basketball game) and a flexible digital signage solution would allow them to quickly adapt to these changes.