Dec 2, 2021 9:14:23 PM
·
6 min read
Userful: #1 Global Leader in Software AV-Over-IP Sales in 2021
Userful
The Leading Provider of AV as a Service (AVaaS)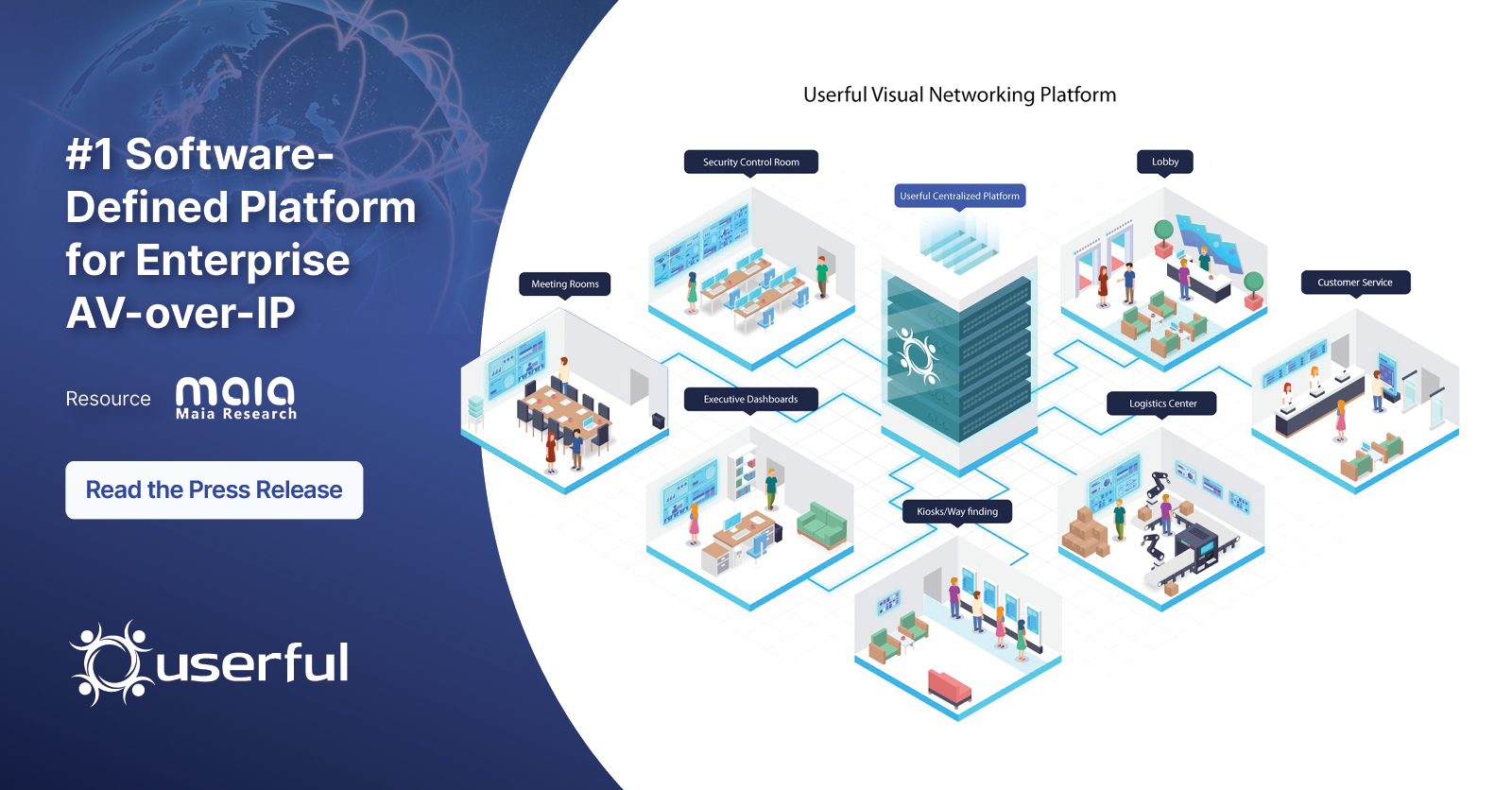 Userful has been named market leader in global sales of software-defined AV-over-IP solutions by Maia Research in its 2021 study of the global AV-over-IP market. We wanted to share with you why Userful is leading the way and what it means for the industry.
Although the concept of AV-over-IP has been around for a while, the AV-over-IP market has remained relatively small, almost niche. Today though, according to Maia Research, AV-over-IP is one of the fastest-growing segments in the IT industry expected to grow from $3B in 2021 to $51B in 2027. It's also important to note that enterprise organizations--particularly in corporate, education and government—make up 85 percent of the total AV-over-IP market. Another interesting finding from Maia Research's study is that software-defined AV-over-IP is expected to grow significantly faster than its hardware-based counterpart from now until 2027.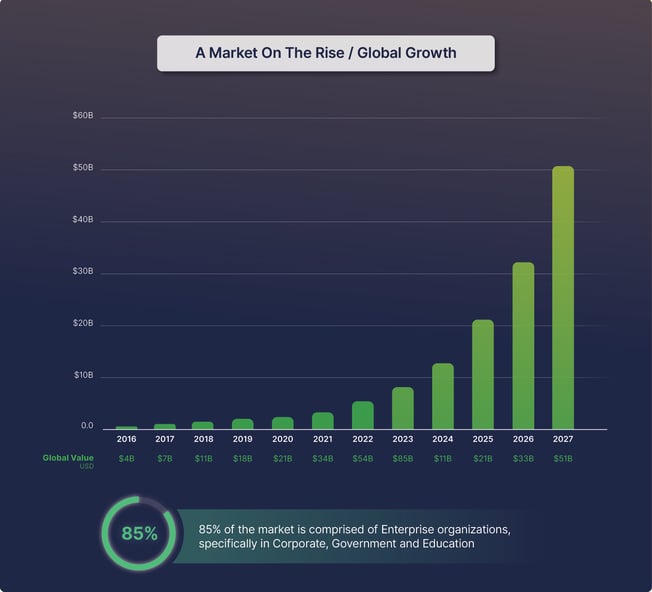 AV-over-IP in the enterprise is more than just transmitting data via Ethernet
In today's corporate landscape the amount of video and digital content flowing across organizations is increasing at a rapid rate and in order to support a digitally transformed workplace, the content that's flowing across the network is rich and interconnected—from IoT devices, company repositories, data metrics, SCADA, networked video cameras, out to screens of all kinds and even to Augmented Reality devices.
As organizations become more visually-oriented, AV services and applications are less about displaying images and video content on displays, and more about managing display infrastructures and interconnecting the visual tools that support an organization's operational workflows.
Companies deploying visual applications to support their workflows need a solution that's scalable, secure, interoperable with current, and future, systems and manageable across their networks.
Traditional AV solutions are not able to support this workflow approach to visual applications and services and given their vast and distributed nature, IT departments are turning to AV-over-IP to ensure they can securely and efficiently deliver visual services
Software-Defined AV (SD-AV)
There are two main approaches to AV-over-IP: Software-defined AV and Static AV. Software-defined AV differs from a static approach to AV in that it separates the control plane from the data/AV plane. What that means, and what Userful's Visual Networking Platform does, is deliver any and many sources to any and many endpoints, handling adjustments in resolution, aspect ratio, compression, etc. as required. In addition, the Userful Visual Networking Platform integrates a REST API that enables it to leverage control triggers for visual content from across the network as well, such as an IoT device, AI ruleset, or remote management. In contrast, static AV is limited to a single source onto one endpoint (or several mirrored devices using multicast) without the ability to handle adjustments to resolution, aspect ratio, etc., and without the control layer that enables distributed management by IT which is fundamental for the modernization of business operations.
For several years now, conditions have been set for software-defined AV-over-IP to thrive, and surpass hardware-based solution's capabilities of handling high-resolution, real-time content.
The rapid increase in compute (according to Moore's Law), network bandwidth (according to Butter's Law) and storage (according to Kryder's Law) have meant that companies can finally manage AV and IoT assets in a distributed way, through the cloud and through the network. This is what Userful is doing and it's one of the key reasons Maia Research has found software-based AV-over-IP is growing faster than hardware-based.
Software-defined solutions, by nature, are more flexible and futureproof than hardware-based or static AV solutions. This is another of the key reasons why enterprise companies are turning to Software-Defined AV.
Why the enterprise needs a platform for AV-over-IP
Interconnectedness is paramount for enterprise organizations. Companies need to break down silos (so pervasive all across legacy AV solutions) by deploying a single platform solution, rather than individual applications. This ensures efficient and secure management and delivery of visual communications and applications across the organization. Integrating AV applications into an IT platform enables IT departments to retain end-to-end solution management within their infrastructure while giving functional departments access to the applications
Market leaders in Software-Defined AV-over-IP for the Enterprise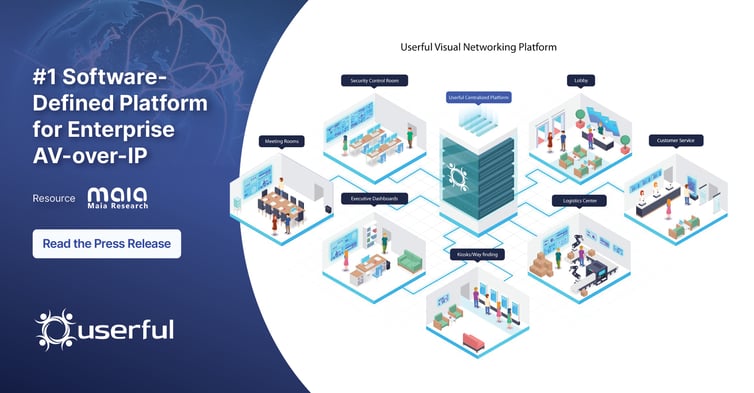 Now that we have a better understanding of what the AV-over-IP market is and why enterprise organizations are adopting software-defined AV-over-IP to securely and efficiently deliver visual services, let's look at some of the factors that have helped make Userful's Visual Networking Platform the #1 selling software-defined solution for AV-over-IP globally:
Better infrastructure management for IT
Userful's management tools allow IT teams to monitor their network, remotely manage their endpoints and control the entire solution end to end. By eliminating unnecessary hardware, Userful's platform reduces the overall management burden.
Separation between Infrastructure and endpoints
Userful has separated the interface and tools needed by IT from the AV applications themselves. Functional departments still have full access to the content and applications while IT retains control over the infrastructure and access to the applications as needed.
Break down silos across the organization
In the past, AV has been dominated by point solutions that address a single functional need. Userful's platform puts an end to that siloed approach to deploying video, communication and collaboration applications. It integrates multiple AV applications and gives IT teams a single infrastructure solution that allows them to deploy, manage and control multiple AV applications while giving functional departments access to the applications themselves.
Total Cost of Ownership Savings
Userful's platform approach reduces the total cost of ownership by eliminating unnecessary hardware, reducing the complexity of enterprise AV-over-IP deployments, cutting the support and training costs associated with deploying multiple siloed point applications and eliminating the vendor lock-in created by proprietary hardware.
Scalability
Userful's platform ensures companies can easily scale in all the key ways. By operating over the network with the option for either a cloud or an on-premise server, it is easy to add additional endpoints and screens. The nature of Userful's platform makes it easy to add more AV applications and its open technology architecture and API ensure maximum interoperability. Customers can deploy any content to any screen anywhere in the world in real-time.
Security
Userful's platform runs on a secure enterprise Linux distribution and standards-based commercially available hardware. Userful leads the industry in AV-over-IP security.
Looking out into the future as digital transformation accelerates more flexibility, interoperability and interconnected apps are needed to not only sustain but advance business operations in the enterprise. It is more important than ever to not be constrained by hardware alone and have the future-proof capabilities that software provides. Companies need a Software-Defined AV approach to manage visual services and applications into the future and that's why we expect Userflul's leadership in this space, both in terms of technology innovation and global sales, is going to continue for many years to come.
To learn more about Userful's approach to AV-over-IP for the enterprise, click here.
Userful
The Leading Provider of AV as a Service (AVaaS)