Aug 30, 2019 12:00:00 AM
·
3 min read
How Video Walls Keep Airport Travelers Informed in Real-Time

Userful
The Visual Networking Platform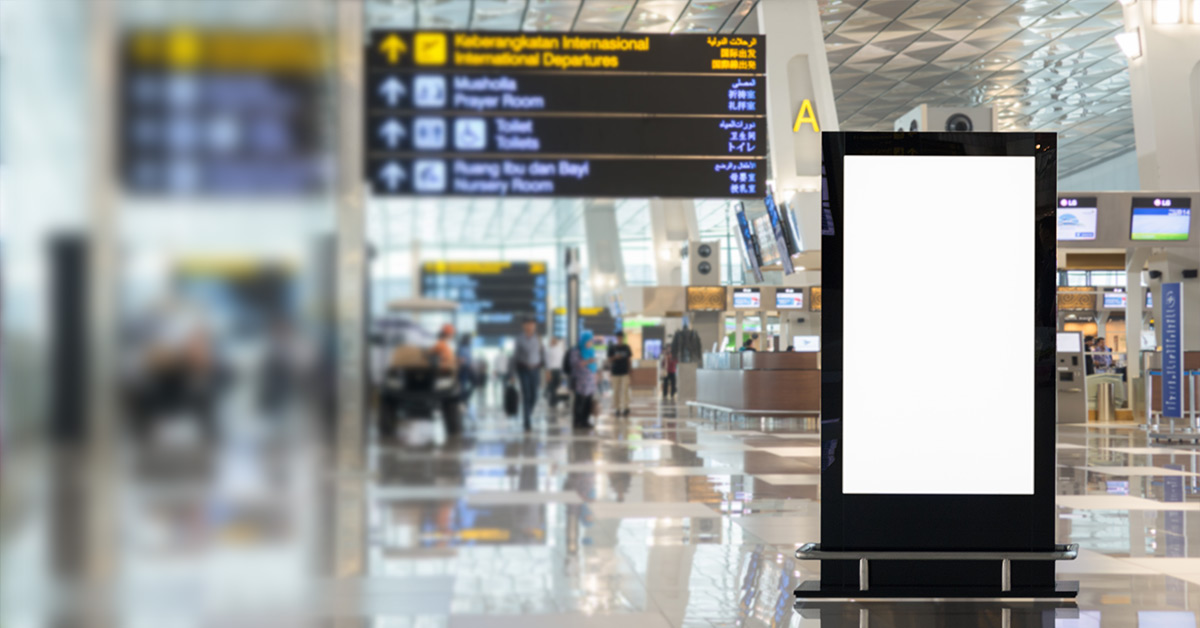 Sometimes it seems there are more people flying than on the ground; 4.5 billion people took to the air in 2018, connecting between the 17,678 airports located worldwide. In a recent study conducted by airfare aggregator Jetcost at Denver International Airport, an American adult spends on average 3 hours and 20 minutes at the airport waiting for their flight. While the average time spent in an airport vary globally, there is an immense opportunity for airports, shops inside terminals and other businesses to connect with a captive audience waiting to catch their flight.
If a person on average spends 200 minutes inside of an airport, what makes the consumer rate their experience as enjoyable? According to the Skytrax World Airport Awards , travelers have voted Singapore's Changi Airport as the World's Best Airport for the seventh time in a row. The top-ranking airport is known for world-class shopping, local and global cuisine and picturesque installations including a 40-meter high indoor waterfall, sky bridge and forested canopy park. Changi Airport is a masterpiece of architectural design as well as passenger experience, with offers to travelers such as free movie vouchers to either of its two 24-hour movie theaters after spending a set minimum amount at the airport shops. Changi Airport rewards passengers for shopping and spending additional time at the airport, while stimulating its own internal economy.
While not every airport can afford to install a waterfall, skywalk or movie theater, we will introduce a few ways that airports can utilize visual display strategies to improve travelers' experience while at the airport.
Keep Travelers Up-to-Date With Visually-Appealing Displays
Flight Information Display Systems (FIDS) — As passengers move through the airport, flight status monitors are their source of truth regarding updates to their travel plans. Here, passengers stop to study the monitors to learn boarding times—or the dreaded flight delay. Airports and businesses can leverage these displays to provide a more enjoyable layover experience (i.e. with wayfinding, advertisements, promotions, etc.). By widening its visual display, Toulouse Airport created a vibrant video wall to feature both flight statuses and digital marketing signage to showcase restaurants and shops within the airport. The video walls are both visually appealing and informative, creating happy airport travelers.
Baggage Claim Display — Similar to the FIDS, airports can utilize the outbound areas—such as baggage claim and Arrival halls—to enhance the traveler experience (and help the city to boost tourism, for example). A U.S.-based airport recently renovated its baggage claim area to include 2x2 video walls located at each of the carousels, selling advertising space to hotels, attractions and events taking place within the local area. Not only was the airport able to keep passengers informed on all baggage claim information with beautiful, curved LG LED displays, the airport was able to earn incremental revenue.
Digital Signage Increases Airport Security
Security Control Room — With a vast number of passengers and staff going through an airport everyday, security is key. Security control rooms and command centers are vital components of airport functionality and video walls serve as a centerpiece to monitor multiple sources simultaneously (i.e. video surveillance, performance metrics, airport operations, etc.). Software to support these systems needs to be reliable, flexible and scalable. Userful's Command and Control module allows for the reliable drag, drop and resizing of content in real-time for all safety and video needs in the control room.
Emergency Safety Warning System — In the case of an emergency (e.g., fire) airline travelers can be updated in real time via visual displays located throughout the airport terminals. A unified, centrally managed system can allow security command center staff can quickly switch between content displayed on monitors throughout the airport terminal to display instructions to passengers, such as emergency exit routes.
Airline passengers are now looking to airports to provide better entertainment experiences, and selecting travel routes that take them through the airports around the world that provide the best experience. Visual assets are an important ingredient in experiential marketing at airports. Digital displays keep passengers up-to-date on all airline information, provide appealing entertainment features, display advertisements for shops inside the terminal or in the local area and establish security protocol measures. Learn how Userful can help upgrade your airport's digital communication and signage features to establish your airport as one of the top in your region.