Apr 28, 2017 12:00:00 AM
·
3 min read
Video Wall Processors - What You Need to Know

Userful
The Visual Networking Platform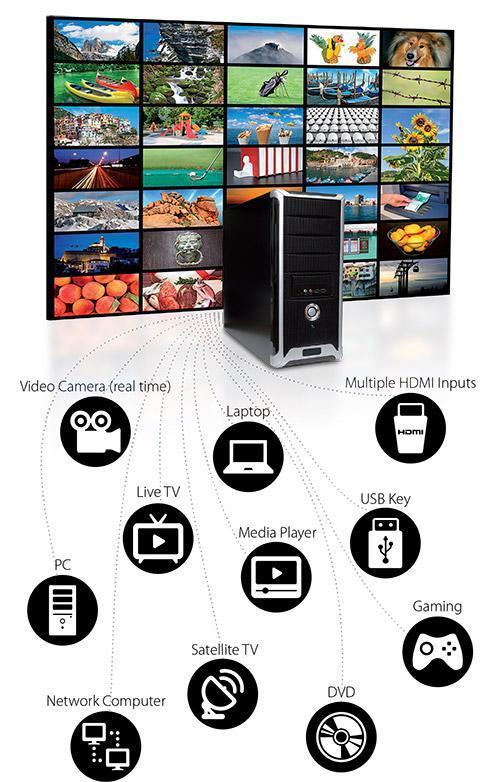 When was the last time you saw a digital display and said (or even thought) "wow that's cool!"? The fact is that digital displays are everywhere nowadays, and individual displays don't have the impact they used to have anymore.
So, what is the next step? Video walls. Look around whenever you are at an airport, a mall, and of course, sports venues. You'll see that video walls are more and more present. But then again, small video walls—for example, the 2x2 or 3x3 ones that you get by daisy-chaining modern commercial displays—won't cut it either. Here is where video wall processors come into play.
A video wall processor, simply put, is an external device that takes several inputs and creates a single image which can then be output to a grid of synchronized displays (a fancy name for video walls). The main benefit of a video wall is that they add value, way beyond what the displays themselves can do.
Visit our FAQ on video wall processors, and learn more
Video wall processors give you all the power and flexibility that integrated daisy chain solutions within commercial displays. They allow you to deploy video walls beyond standard 2x2 (or 3x3) grids—even let you have displays at odd-angled positions, and create gaps within the video wall "canvas"— along with supporting aspect ratios other than standard 16:9 and 4:3 (though is best to check before investing, as all processors might not support this last feature). Content resolution is also key. Not so long ago, 1080p (HD) was considered the best quality ever, yet nowadays is 'ok', with 4k being the king—and even 6k, and 8k are starting to become mainstream. So you want to make sure your video wall processor supports high enough resolution, but more importantly, that is able to keep up as technology advances.
In summary, every video wall processor is different, and there are many options out there. Best is to make sure that the video wall processor you choose is capable of fulfilling your current project requirements, but also continues supporting your needs as your business—and your video wall—grows. There are plenty of resources that can help you make a smarter decision when purchasing a video wall processor
Userful's resource page has a wealth of helpful tip sheets and articles on what to consider before making a purchase.
For even more power and flexibility, a video wall processor can be combined with a video wall controller. This combination will give a wider range of capabilities—for example, you can have interactivity features where the content, or layout (or both), on a video wall can be easily switched using web-enabled mobile devices, with just a single touch.
See Userful's interactive features, and learn more about how to engage your audiences even more
---
Read more about why Userful is the ultimate video wall processor solution.