Sep 6, 2017 2:00:00 AM
·
4 min read
Mounting Artistic Video Walls

Userful
The Visual Networking Platform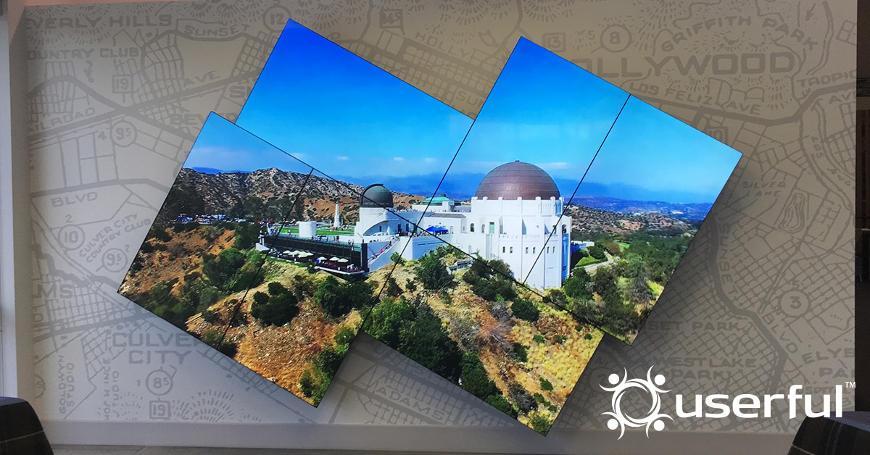 At this point, we probably are all very familiar with the impact a video wall can generate. Gone are the days when people were easily "Wowed!" by digital signs and individual displays. Video walls have since taken over as the new tour de force in public display, digital signage, and audience engagement.
But as video walls spread, those who really want to stand out from the crowd have been looking for new ways to get back people's attention and engage with their audience. One of the most visually appealing ways to do this is an artistic video wall.
Having the ideal solution is half the battle
The first step is of course to ensure you have a flexible, high-performance solution that's cost-effective and easy to use. That's where Userful comes in. The solution's management and configuration tool allow you to mix display sizes and aspect ratios. You can lay them out anywhere on the video wall canvas—even allowing layout gaps— and of course you can rotate individual displays to any angle 360 degrees. To make things simpler.
Once you've got Userful as your video wall processor or video wall controller, the remaining challenge is how to physically mount the displays.
"How many people does it take to mount an artistic video wall?"
It may sound like the beginning of a joke, but mounting a video wall, even a traditional, grid-like video wall, is a challenging process. If the displays are not properly aligned, the image will not look good. Fortunately, there are mounting systems that facilitate mounting a video wall and do it in a way that makes it easy in most cases for one person to mount it (although we don't recommend lifting a commercial, 90lb display on your own).
Artistic video walls add an extra wrinkle in the mounting process. You need mounts that enable you to easily adjust the displays at any angle, with the highest precision, and lock the mount once settled so it doesn't move. Although traditional display mounts are meant to support the displays in either landscape or portrait layouts, there are a number of manufacturers that have introduced video wall mounts for artistic video walls. Let's have a look at some of these leading brands:
RPT QVT-WD100 Artistic Video Wall Mount
This versatile mount gives you the freedom you need to physically build any layout you dream up. A compact, easy-to-hide mount made of aviation-grade aluminum, it comes with standard VESA mounts. It allows 360° display rotation at any angle, and locks the display once set so it can't loose alignment. Some of the other mounts listed here are restricted to 15° increments so keep this in mind if you truly need "any angle" rotation.
One of the things we like best about RPT's wall mounts is that they're so very customizable. Give them a diagram (or even a sketch) of your video wall design, and they will send you a dimensional CAD layout to use with their drilling template. You can't make installation simpler than that.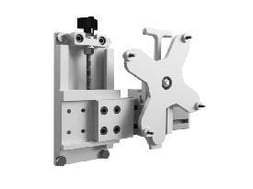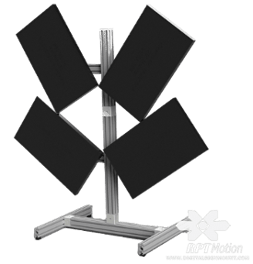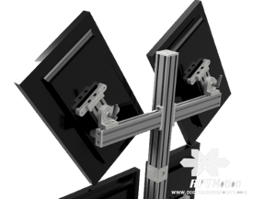 Peerless Special Purpose Video Wall Mount (DS-VWM770)
This video wall mount provides a 10-point microadjustment system to align the video wall displays in an artistic configuration. Also comes with VESA mount for standard display mounting, and allows mounting the displays within a 360° range in 15° degree increments. The system pulls off the wall for easier accessibility.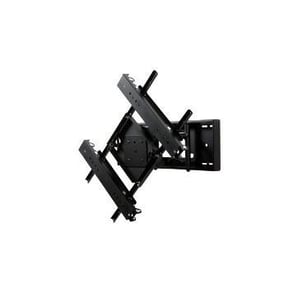 Chief Freestyle Rotation Adapter (FRA) for ConnexSys and Fusion video wall mounts
An add-on for their ConnexSys and Fusion video wall mounts, the Freestyle Rotation Adapter provides 90° of rotation in a 360° range, with positive lockouts at 15-degree increments. Chief's mounting system allows for overlapping displays (Fusion FCADA) or micro-adjustments for more accurate alignment (with ConnexSys).
These mounts eliminate the restrictions and complexity of installing artistic, unique video walls, and combined with the Userful video wall, enables the creativity to deploy any artistic video wall imaginable, through a very powerful, yet simple solution—all you need to worry about is what kind of displays to use.