Jan 12, 2017 12:00:00 AM
·
6 min read
Reclaiming the "Wow Factor" of Modern Video Wall Solutions

Userful
The Visual Networking Platform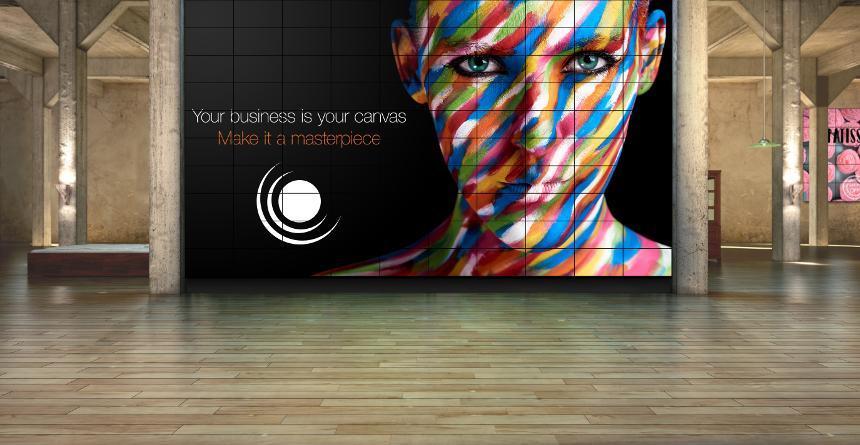 Half of the purpose of using digital signage is to capture people's attention. The other half is delivering powerful visual communication. But with the proliferation of digital displays, it's harder and harder to get that magical "wow factor" in the digital signage space.
Common Approaches Restoring the "Wow Factor" by Implementing Video Walls
One way to get the wow factor back—and the focus of this article—is video walls. Video walls capture attention and provide a big canvas to communicate and promote brands in a unique way. Not surprisingly video walls are one of the fastest-growing sub-sectors of the world of digital displays.
All too often people are left struggling to understand their Video wall technology options. In this article, we want to help shed some light on some of the most common approaches to implementing video walls and the pros and cons associated with the various options.
Four Core Video Wall Technologies: Pros and Cons
There are basically four core technologies on the market today driving video walls:
1. Traditional video-card based video wall controller
Video cards are one of the oldest technologies used to drive video walls. In this approach, a dedicated computer—basically a specialized PC equipped with extra video cards—is physically attached to the displays, each video output driving one display.
These video wall controllers typically come with software and capture cards to connect multiple inputs, configure presets, control outputs and manage the overall configuration.
Traditional video wall controllers are proprietary hardware solutions with a fixed number of inputs and outputs purpose built for video walls.
Typically video wall controllers scale captured input sources, but some video wall solutions allow you to render content directly on the controllers.
Pros and cons of this solution:
Traditional video card based controllers have the ability to output very high resolutions, and spread as well as divide and subdivide the display as you want.
Unfortunately, these systems are the most expensive and rely on proprietary hardware, and must be sized in advance for a specific configuration limiting opportunities for system expansion.
[Userful's approach by comparison is more flexible and scalable, allowing customers to easily expand or adjust their video wall size, configuration and even functionality as their requirements change.]
2. Tile-matrix scaler
Many of the commercial zero-bezel video-wall displays come with a built in daisy chain solution that allows the displays to scale a single input source across an entire grid video wall.
Pros and cons of this solution:
Tile-matrix scalers provide a low-cost—usually included with high-end commercial displays— solution that is simple to set up. However future upgrades—for example moving from 4k source content to 6k source content—would require the entire solution to be upgraded.
Tile matrix solutions work best with video walls that don't require high resolution or advanced features like rotations, multiple simultaneous content streams, preset zones.
Obviously the tile matrix approach you still need a player to generate the HDMI or DisplayPort source.
[Userful by comparison is more scalable and more flexible. Unlike the tile matrix approach, it has all the advanced features of a video wall controller and also the ability to scale to much larger content resolution and supports more non standard configurations.]
3. Media-players playing back pre-split content
Some innovative businesses have taken multiple signage player devices and time-synched them together to create a video walls playback system.
With this solution, the content must be pre-split and only the relevant portion of the video uploaded to each of the corresponding individual players—one per display.
The players constantly talk to each other or to a server during over the network during playback to maintain synchronization.
Pros and cons of this solution:
Pre-splitting the content then delivering via media players is a great trick if your video wall content changes very infrequently.
However this can often lock you into a specific content management system at very high subscription costs, lock you out of real-time content (like social media feeds, weather, news, live TV).
Another downside is that pre-splitting content is time-consuming (which can be a deterrent keeping content fresh) also the approach rules out interactive content or real-time feeds such as social media posts, weather, live TV/video.
[Userful by comparison delivers all its content in real time allowing use of real time content and giving the customer a lot more flexibility. Unlike this approach with dependence on pre-split content, Userful ensures content is easy to keep up to date.]
4. Network-based (AV-over-IP) video wall controller
This technology marries the power and flexibility of a traditional video wall controller, with the cost, scalability and flexibility advantages inherent AV-over IP. A central PC renders, captures and splits the content then sends it out over a standard Ethernet network to the displays. This offers all the resolution, multi-source and flexibility advantages of a traditional video wall controller.
Pros and cons of this solution:
Network based video wall is comparable in cost to tile-matrix or pre-splitting but offers all the advanced control features of a traditional controller.
All the content management, splitting and delivery is done in real time, and capture cards and network streaming source offer a wide range of inputs (like HDMI and SDI).
The only restrictions on the scalability of the solution are the power of the PC and the capacity of the network, which can be virtually unlimited. Also, these solutions have the flexibility to display and arrange multiple simultaneous real-time content sources, as well as support for multiple video walls running off a single PC.
Network transport enables advanced features like high-availability as well as built-in cable extension enabling the PC to be securely locked away.
One disadvantage is that since distribution is over an IP network at gigabit speeds, you need to install at least Cat5e cabling.
Vendors of network-based (AV-over-IP) video wall controller solutions include Userful.
Which Solution is Right for You?
In conclusion, businesses should focus on implementing solutions that are more powerful and flexible, without breaking the bank. Obviously picking the right core technology is just part of the decision.
Save Time With a Solution that Emphasizes Easy Setup and Configuration
Features like easy setup and configuration; and flexibility to support your full range of customer use cases with a single product can be a huge time-saver for system integrators.
Another key consideration is how future proof the solution is, and what type of upgrades or expansion would necessitate a complete replacement of the system.
In 2017 expect to see more activity in the AV-over-IP space due to the enormous advantages this offers for video walls and digital signage in general.
Read more about how to transform a PC into a video wall controller, or join our mailing list to get more tips on video walls and solutions.
Like the image of the 100 screen video wall above? Userful can do up to 100 screens and up to 8k video walls. Watch a live demo.