Many office buildings spend hundreds of thousands on artwork in their lobbies and sometimes millions on architectural features designed to make a statement, to attract tenants and to impress visitors.
You don't get a second chance to make a good first impression and so investments in lobbies, foyers, atriums, reception areas and even waiting rooms are always going to be money well spent, but for those looking for big results with a lower budget, video walls are an ideal answer.
Video walls, capture attention, they stand out in people's minds and they can be changed to show something different, and deliver a new message every day or at the push of a button.
Elevate the building's profile with an artistic video wall
The advent of the artistic video wall has made things very interesting when it comes to digital signage and media installations.
A video wall with a unique design, with angled displays or a mix of display sizes and types, combined with one of a kind stunning content in 4k (or even 8k) can not only catch the attention of passerbys, it can also increase foot traffic—an incentive for businesses like cafes or restaurants to set up shop in the building.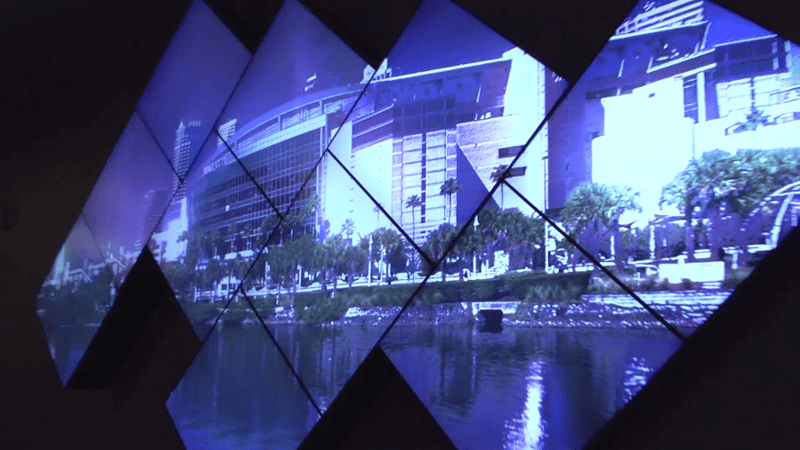 A video wall can provide an incredible platform for a vibrant, dynamic—and even interactive—showcase of videos, images, and web content from all over the world.
Static artwork and displays can certainly give a nice touch to the lobby, but after a while they become too commonplace and easily forgettable.
Video walls on the other hand allow you to showcase multiple pieces of content at the same time. You can easily change the content—either from a tablet, or by scheduling automatic changes.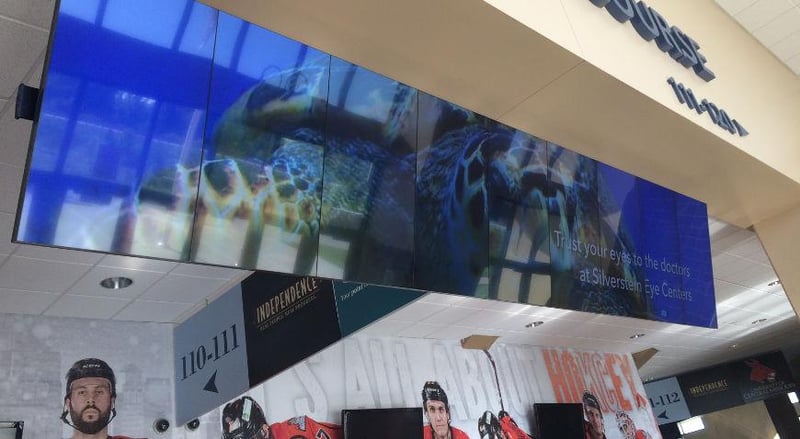 A really cool example of getting the most out of a video wall comes from a hotel, where they installed a video wall behind the front desk.
This video wall showcases live views of the city's beautiful downtown core from a camera installed on the roof of the hotel (There is a case study about this install, check it out!).
It is a win-win situation for everyone involved
In the example above, the video wall not only served as a modern piece of art.
It also serves as an upgrade tool, where staff can offer rooms with the view like the one they are looking at in the screens.
Video walls are not just methods for displaying content.
They can be used for important messaging, special campaigns and building safety during an evacuation.
It can even be used to feature tenants or for revenue generating advertising space.
They are a great branding platform, where building owners, companies, retail spaces, and even the visitors can greatly benefit.
The right solution will make things easier
A video wall deployment is no menial task. You have displays, mounts, cables, video wall controllers, media players, etc. to work with.
Because many video wall installations in building lobbies are retrofit projects, a deployment of this kind can make it complicated for AV professionals when it comes to choosing a solution that would fulfill the requirements without blowing the budget.
A good plan is crucial to ensure the success of the video wall install.
Next, you need a solution that can give you the power and flexibility to handle whatever obstacle the space puts in front of you.
Userful's approach to delivering video walls via the network makes it ideal for lobby deployments.
You can set up the video wall controller in a server room/closet and have only the displays and small client devices on-site. This ensures maximum flexibility and frees AV Pros to do the maintenance of the controller in a comfortable location with easy access.
In terms of content, there is virtually no limitation to what the right video wall can support.
From websites with HTML5, to HDMI capture for laptops, DVDs and blu-rays, as well as live camera feeds, video content in just about any format, still images, and even Content Management Systems (ideal to customize and schedule your content).
Userful's cloud management option allows the administrator to schedule content and source changes, which are ideal for unsupervised video walls—such as the ones you would find in a building's lobby.