Currently, we are at a crossroads where advanced technology meets a decreasing public attention span, and in the middle of it… information overload! I am sure you have heard the term already--"so much to see and so little time to see it".
There is so much information everywhere shared at such a rapid rate, that if you blink, you might miss it.
What does this have to do with video walls and digital signage?
Digital signage is about audience engagement—you gotta grab their attention! How do we attract attention in this age of smartphones and displays everywhere? Part of it comes down to what content you display.
There are some who can afford to create their own content (and there are times when it that is the only option regardless of budget).
But there are other times when you can pull content from existing sources and save time, resources, and money, and still drive the level of attention you need. This is content curation.
In the end, it's not a matter of one or the other (sometimes content curation and content creation are used simultaneously), but in this post, we want to shed some light on when it is a good idea to curate content.
But what is content curation anyways?
Content curation is gathering, assembling, and presenting already existing pieces of content according to industry focus, audience interests, or specific subject matter.
This may relate to finding interesting pieces of digital information such as articles, quotes, images, news updates, blogs, videos, or any other thing that might interest your audience and therefore compiling them based on the topic for current or future use.
Content curation is easier than ever. The internet has made a tremendous amount of content accessible with just a click (for example, 95 million photos and videos are shared on Instagram daily).
The flipside of that is that there is so much content around that making a decision on the "right content" can be an uphill task.
Keep in mind that just because the content is available, it doesn't mean it's free. Always make sure to read and understand the licensing agreements for the content, to avoid any legal risks.
Create, curate, or both?
Creating content can be a resource-consuming process, but if your company can afford to create its own content for digital signage, it will always be the best approach.
Creating your own content gives you complete control over the type of content that you want to showcase and its design.
In a world where digital displays are more commonplace than ever, uniqueness in your digital signage will definitely make you stand out from the crowd, and by creating your own content you can ensure to be as unique as you want.
However, to stay in the game you need to stay current, and when it comes to your digital signage, you need to keep your content fresh and relevant.
If you can't afford a team of designers (or outsourcing) to continuously create new content, then at least some content curation may be for you.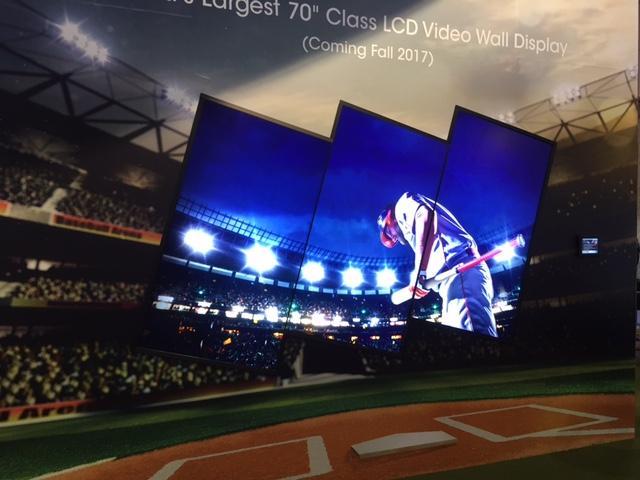 To curate content for digital signage, you can pull content from many sources—videos, still images, live TV, websites, online streams, social media, network feeds, and more.
You may still engage a designer to assemble it, but you don't need to create it from scratch.
Social media plays a huge part in people's lives, and companies are relying on many platforms for audience engagement with their digital signage.
It actually provides a great tool for content curation—video (YouTube), images (Instagram), news & messaging (Facebook & Twitter).
There are times when you can benefit from a mix of creating and curating content.
For example, you can showcase the created content that best reflects your brand and products alongside curated content from different sources and maximize your engagement effectiveness.
Content Management Systems (CMS) and other design tools can give you the best of both worlds.
They allow you to customize the look and feel of your digital signage and add any content you created, as well as integrating any curated content from many sources (i.e social media, live TV, websites, etc.)
You need a solution that supports as many input sources
Finding the content is only half the battle, the other half is actually displaying it on your video wall or digital signage.
For that, you need a solution that is able to handle all sorts of input sources, that way you are not limited in the type of content you can showcase.
Userful allows you to you pull content almost from any kind of source.
From websites with HTML5 to HDMI capture for laptops, DVDs, and Blu-rays, as well as live camera feeds, video content in just about any format, still images, and even Content Management Systems (ideal to customize and schedule your content).
A key aspect of engaging your audience is not only what content you show, but also how do you show it.
Userful supports advanced features, like Zones, Multi-Window, and Picture in Picture, which allow you to display multiple sources simultaneously, and then save content streams and layouts as presets, for quick recall.
What's more, Userful's cloud management features allow you to easily schedule your presets, that way you can not only curate what content you will show, but also curate how you will show it, saving a lot of time, energy, and money.
There are so many variables that you need to keep in mind to ensure digital signage effectiveness. Curating content can certainly simplify things.
Equally important you need to have a solid system in place that can allow you to take full advantage of content curation, and Userful provides a platform like no other to showcase your content whether created or curated.
---
To learn more about all of Userful's features, check out our library of 2 minute demo videos. You can watch the videos in sequence for an in-depth understanding of how Userful works or watch individual videos on the subjects of most interest to you.