Jul 17, 2017 2:00:00 AM
·
2 min read
The Key Role Played by Digital Displays in Control Rooms and Command Centers

Userful
The Visual Networking Platform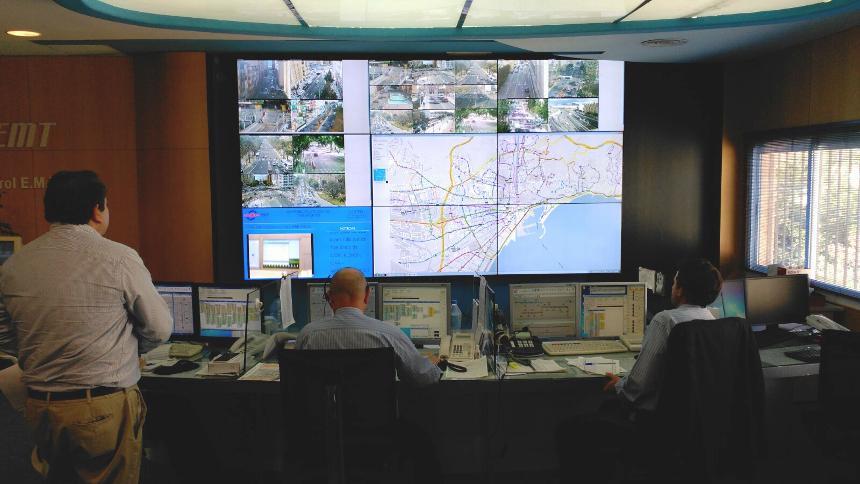 EMT Control Center in Malaga, Spain
Control rooms and command centers exist to ensure the operation of critical infrastructures. From mission control at NASA to a city's transportation system, to a communications service provider, the control room supports a team of experts who are constantly monitoring the data coming from their networks, ensuring their system's up-time is maximized.
The main requirements a control room would have of a monitoring system would be the following:
Reliability: Monitoring critical systems, there needs to be a system in place that is not going to fail or crash easily, or if it does, it would at least have a quick responding

Failover

capability, so that a backup system takes over the main one in case of failure.
Flexibility to integrate with Multiple content sources: Control rooms and command center staff monitor data from a wide range of variables, or sources. Be it a live camera feed, readings from a sensor, interactive maps, or even the weather forecast, staff needs to be able to visualize the "big picture" (literally!) with ease and speed.
Scalability: Classically a display wall controller has had a fixed number of inputs and outputs, and as the technology advances, control rooms and command centers find the need to expand their visualization data (i.e. by adding more cameras to a live camera network or needing to add more screens to accommodate a larger number of input sources to monitor, etc.). Unfortunately, fixed I/O systems can't provide the scalability they need without having to either replace their system or perform major upgrades (which ultimately incurs more expenses)
Userful's controller doesn't require capture for every source and can render sources themselves. Although you can still capture external sources when needed, Userful includes over 25 plugins that enable you to show a wide range of sources without requiring an extra PC or a capture port. So for example a web portal, IP video stream, RDP session, or video player source can all be output to the wall without needing external capture cards.
Video wall processors provide a platform for multiple input sources to be displayed on an array of multiple displays, and a controller enables the advanced features for displaying the content simultaneously in multiple zones (or windows) on the screen.
Traditionally display systems in control rooms have been highly specialized, almost custom-made systems, with proprietary hardware, and high price tags. Nowadays, the advancement in software technology, and the fact that almost everything is delivered through the Internet/Ethernet, have brought software-based solutions, like the Userful video wall, that leverage the use of standard PCs and IT infrastructure to deliver more affordable display solutions in control rooms and command centers (or NOC), without compromising performance and reliability.
---
Visit our Control Rooms & Command Centers page to find out how to get the most out of the Userful video walls on your upcoming projects